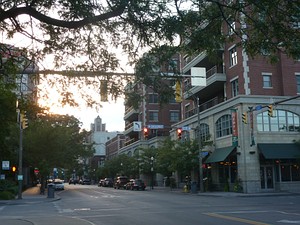 View of Lower East End with the Sagamore luxury condos.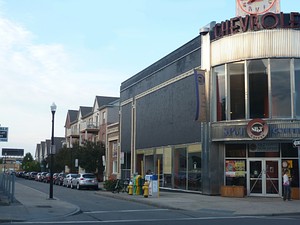 Commercial and residential spaces in the Lower East End.
Introduction
East And Alex is a downtown neighborhood so named because it is centered on East Avenue between Alexander and Main Street. It is characterized by vibrant restaurants, bars, and sophisticated cultural attractions. East And Alex contains numerous bars, clubs, and restaurants, as well as art exhibits and musical performances of all sorts. As you can imagine, finding a parking spot in the area can be difficult on weekends.
The "modern" East End's history began roughly two decades ago with the maturation of the Little Theatre art film venue and the launching of the East End Festivals. Bolstering those entrepreneurial efforts were pioneering retail outlets – several of which remain today as neighborhood stalwarts.
Subsequently, in the 1990s and early 2000s an entertainment scene exploded in the neighborhood, with a wide variety of dining cuisines and late night music and entertainment venues pumping new life into the architecturally stunning buildings. Drawn to the increasingly 24/7 scene, new residents poured into the neighborhood, at first renting units in newly built and renovated buildings and, more recently, purchasing homes in "The Sagamore on East" and the adjacent, long-established Grove Place neighborhood. 1
In 2019 the city recognized the district as ||
East And Alex|| which can be viewed at ||
EastAndAlex.com||
Other popular neighborhoods within walking distance include Grove Place, Park Avenue, the Alexander Neighborhood, the Neighborhood of the Arts, and Monroe Village. The South Wedge is a very short bike ride. East of Alexander Street is, of course, the East Avenue Historic District, famous for its stately mansions.
Divisions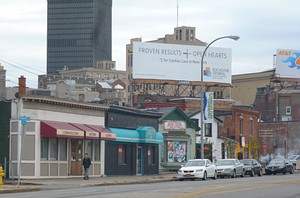 East Main Street
The Inner Loop once divided the neighborhood into two sub-sections with their own distinct flavors. East of the old Loop is East And Alex, which contains the busiest bars, restaurants, and clubs. It overlaps with the Alexander Neighborhood, which links it to Monroe Village, another hot spot for bars and restaurants. Thursday, Friday, and Saturday nights find this area noisy and packed to overflowing. Most of the time, however, the Upper East End is actually pretty quiet. The top floors of its buildings are professional offices during weekdays. The Upper East End is home to such popular bars as Murphy's Law Irish Pub and The Old Toad.
The Lower East End, west of the old Loop, is more concentrated on culture and sit-down cafes and restaurants. It boasts many high-end apartments, townhouses, and condos, ranging from lofts to vintage (One Eleven on East) to new construction such as the Sagamore on East complex. The Eastman School of Music, Rochester Contemporary Art Center, and Little Theatre are located here as well, along with the Eastman Historic District.
A third section, not properly considered either the Upper or Lower East End, is East Main Street. This is a rather gritty-looking but colorful strip boasting numerous black-owned businesses, including barbershops, salons, convenience stores, and more.
Establishments
Barbershops and Salons
Bars and Clubs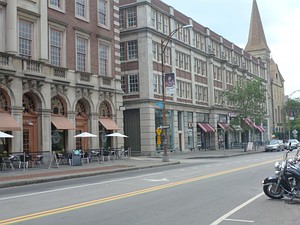 View of the Upper East End; very quiet on a Sunday afternoon.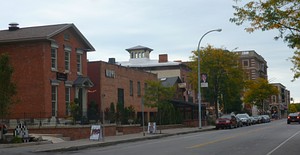 Alexander Street, near the intersection with East Avenue.
Culture
Festivals
Hotels
Restaurants
Retail
Services
Other
Nearby
More Information
Comments:
Note: You must be logged in to add comments
---
2015-03-08 21:33:50 The "Upper East End" around East & Alexander appears to be going downhill and cannot seem to hold itself together outside of being a nightlife district. Once the dive bars and terrible clubs close around 2:00 AM, the neighborhood turns into a ghost town. There is hardly anything to do and the entire block is completely cut in half by the former Inner Loop (which is now constant construction and road/sidewalk closures).
Businesses constantly seem to come and go like a revolving door around East & Alexander. Even just a few years ago we at least had some food options such as Pita Pit, Acanthus and Rubino's. Now your choices are Subway and two disgusting Rochester-style pizza joints with very poor customer service. This is not the 24/7 neighhborhood it claims to be. Half of the store fronts in this area are empty/abandoned. It's sad. A neighborhood like this should be much healthier.
And for the love of god, please let's do something about Huther-Doyle. I have nothing against a rehab facility, but this is NOT the location for one. Having Huther-Doyle at East & Alexander would be like opening up a homeless shelter at the corner of Park & Berkley. It does not belong. During the day there are usually dozens of panhandlers and other scummy looking people loitering outside of the building, smoking weed, harassing women who walk by and being an all around nuisance to pedestrians & business owners. Not cool.
With that being said, the East End within the (former) Inner Loop is a very beautiful area and is constantly improving at a tremendous rate. THAT is where you want to be. —sub619

---
2015-10-18 16:38:02 Note: The East End's website, as of October 2015, is years out of date. It includes businesses like The Pig and Acanthus Cafe that have been closed for quite some time. —EileenF