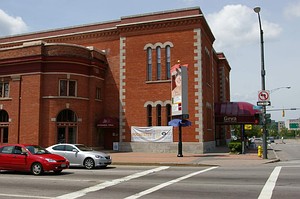 Geva Theater Exterior, looking across S. Clinton Ave., 6-2008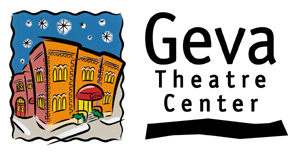 Location
75 Woodbury Boulevard, Rochester, NY 14607
Administrative Info
Administrative Offices: 585 232 1366
Monday - Friday: 8:30AM to 5:00PM
Box Office Phone
585 232 4382 (Geva)
Box Office Hours (Note: The Box Office closes at 6 pm on non-performance days)
Monday: Closed
Tuesday - Friday: Noon to 8:00PM
Saturday: Noon to 8:30PM
Sunday: Noon to 7:00PM
Fax
585 232 4031
Box Office Mailbox
75 Woodbury Blvd., Rochester NY 14607
Accessible
Yes
Email
<gevatalk AT gevatheatre DOT org>
Website
http://www.GevaTheatre.org/
Geva Theatre Center is Rochester's leading professional theatre and the most attended regional theatre in New York State. Founded in 1972, Geva attracts over 174,000 patrons annually, including more than 16,000 students. Geva is located in downtown Rochester across from Washington Square Park and the Washington Square Parking Garage.
The 552-seat Elaine P. Wilson Mainstage offers a wide variety of shows, from musicals to reinvigorated American and world classics. The Ron & Donna Fielding Nextstage, Geva's engaging 180-seat second stage, features fresh contemporary theatre and is home to Geva's newest endeavor, Geva Comedy Improv. The building also houses a cafe where wine, beer, coffee and desserts can be had before a show or at intermission. There is also a small theater-related gift shop, open during show times.
For young people, Geva produces its Big Theatre for Little People series, with exciting, original theatre for audiences in grades K-8.
Plays run throughout the year, typically for 4-6 week blocks. All of Geva's productions are rehearsed in Rochester. They draw upon the talent of the actors, directors, designers and writers from around the country, who are shaping the American theatre scene. In addition to serving the Rochester community through its Mainstage, Nextstage and Big Theatre for Little People productions, Geva also offers a wide variety of educational, outreach and literary programs designed to:

enrich and deepen the theatre-going experience for their current audience;


provide access and affordable theatre to the Rochester community including thousands of area students;


develop new plays and playwrights;


nurture the audiences and artists of the next generation.
From the Mainstage to the Nextstage to the classroom and beyond, Geva Theatre Center is an active member of the Rochester community, offering a multitude of opportunities for their audience to get into the act.
Geva sponsored Rochester TheatreFest in 2007 and 2008.
Comments:
Note: You must be logged in to add comments
---
2010-05-07 11:19:32 I went to Geva's opening night of 'Five Course Love,' which was entertaining and humorous. But at the same time, it definitely seems to be catering to a different, somewhat older crowd. They've been losing membership and attendance to their shows, but perhaps the demographics also make a difference. —czechbox