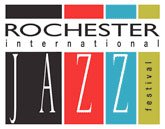 The Rochester International Jazz Festival has become one of the premier music festivals in the country bringing national and international performers and spectators to Rochester in late June. The festival is centered on Gibbs Street (temporarily renamed Jazz Street for the festival) in the East End and utilizes several permanent and temporary venues. In recent years Xerox and M&T Bank have been the top sponsors. The 9-day festival includes a combination of headliner shows at the Eastman Theater, hundreds of Club Pass shows in local venues, and free music on the streets.
The Jazz Fest had modest beginnings in 2002 and has grown its attendance to nearly 200,000 per year under the leadership of John Nugent and Mark Iacona. The performing musicians enjoy the festival and often return in later years - sometimes after they have "made it big".
Paid Venues
Free Venues
Previous Festival Information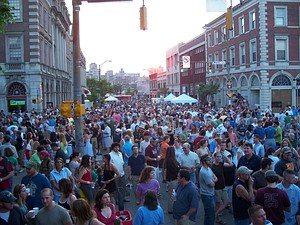 Crowds of people in the street during the festival. Photo by
_yoshi_
Awards
The Rochester International Jazz Festival was voted "Best Music Concert of 2008" and "Best Music Concert of 2009" in City Newspaper's 'Best of Rochester' awards in 2008 and 2009, respectively.12
Notes and References

Comments:
Note: You must be logged in to add comments
---
2007-03-27 13:13:41 Jerry Lee Lewis is pretty cool. Let's forget the fact that he married his 13 year old cousin... but his music is good. —KimBee
---
2007-03-27 13:16:16 I went to the 2005 festival and had a great time. I would HIGHLY recommend buying a club pass if you plan to go to a good number of shows. If I remember the show and club pass prices correctly from 2005, I think going to about 7 or 8 shows made the club pass worth it. It doesn't get you into the big shows at Eastman Theatre, but it gets you into a bunch of the smaller shows at several different venues. Be sure to get to shows early; a lot of them fill up quickly. Don't forget to bring enough money for food and drinks—as with most festivals, the prices can get a bit steep. —RachelBlumenthal
---
2007-06-18 18:35:47 Congrats on the great turnout this year. This was my first time attending and I must say, the music was excellent, the Beer was cold and the weather was perfect. Thanks also to all of the volunteer workers and thanks to the musicians, you put on quite the show. I will definitely be attending future ones. —RickUrwin
---
2008-03-04 17:03:45 Some early artists released...June 14-The Bad Plus, Dee Dee Bridgewater, Cross Canadian Ragweed, June 17- Wildbirds and Peacedrums, June 20-Soulive, Reverend Al Green, June 20-21st-Soul Rebels Brass Band,June 21-Joe Bonamassas,Kentucky Headhunter,Carolyn Wonderland —ScottMiller
---
2008-03-06 11:28:35 Hopefully
Todd Snider will be there this year!! —BadFish
---
2011-06-12 09:11:20 Should be able to buy daily Jazz Pass and the Gibbs St stage really needs to be moved. They have all the food vendors and a free stage crammed into that narrow Rd. I just don't understand that. Maybe put food vendors over on East Ave. Other than that it's a fun time —NewtonNola
---
2014-06-29 17:53:58 Perhaps the best 9 days of activity in the City. —scotthendler
---
2015-06-27 13:44:26 Now maybe I just went at the wrong days/times, but the festival doesn't seem as good this year. Last year I went and had a blast with the 3 free stages (Chestnut, Gibbs & Alexander) which were all incredjble acts, and the atmosphere having all of East Avenue filled with people was amazing. This year, for most of the week we only had one free stage (Gibbs) and crowds were forced to walk on the narrow sidewalks due to traffic being allowed on East. The music wasn't as great this year either. I will say though, that JazzFest is BY FAR the best 9 days this city had to enjoy annually. —sub619
---
2015-07-04 19:46:56 Following up on my previous comment, I find it quite interesting that the festival organizers have avoided giving an attendance estimate for the 2015 Jazzfest. In previous years, the number would be given immediately after the festival ended.
In 2014 the D&C ran an article on June 29th, which was the day after the festival ended, in which the organizers said 196,000 people attended the event. That stands as the official number.
Likewise, on June 30, 2013 an article was published on the WXXI website saying the record was broken again, giving the number as 195,000. Again, this remains as the official attendance for 2013's festival.
Somehow they either got lazy and didn't bother to record the number of people in 2015's event, or the numbers were lousy and they don't want it advertised that less people were there this year. I suspect the latter to be the case. They did admit in the D&C that "if it hadn't rained, they'd have smashed the (attendance) record" alluding to a lower attendance, but still declined to give an official number. In fact, they said they "may never know the exact number of people." That sounds like a cop-out to me.
I don't think its a bad thing that the festival failed to reach its attendance goal in 2015. The weather was far from perfect on most days (this whole Summer has sucked so far) and they were experimenting with a new layout that decentralized the East End corridor, which was packed from Main to Alexander in previous years. There's nothing shameful about that at all. You don't have to break records every single year. I just wish they'd be honest and address the issues with 2015's festival.
That being said, I absolutely love the Xerox Rochester International Jazz Festival and do not want my comments to be misinterpreted as bashing the event. It is the best collection of shows this city has to offer and I will definitely be enjoying every minute of my time there next year. It's an incredible 9 days, there's no doubt about that. —sub619

---
2016-07-09 02:29:08 Wow. Are they refusing to give an attendance estimate AGAIN this year!?!? —sub619
---
2018-06-30 23:41:19 They set an attendance record of 208,000 this year! Very impressive. Still no word yet on how many people were there in 2015.. —sub619