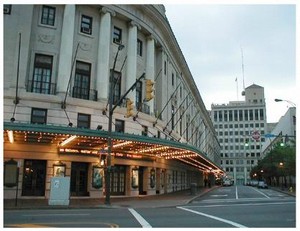 Eastman Theater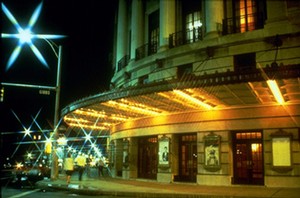 Eastman Theater
The Eastman Theater is a large, gorgeous concert hall, run by the University of Rochester's Eastman School of Music on Gibbs Street. The Rochester Philharmonic Orchestra plays most of their concerts here. It is the venue of the major acts of the Rochester International Jazz Festival. Their concert calendar is located here:
http://www.esm.rochester.edu/concerts/calendar.php
It was built by George Eastman as a premier movie theater originally and was inspired in part by the First Church of Christ, Scientist building on East Avenue (now the Lyric Theatre). It was renovated in 2005, which also brought about improvements to the acoustics of the hall.
The renovated Eastman Theater debuted in early 2011. In 2007 a D&C article described the project as follows:
"The $20 million plan calls for lowering the number of seats from an untenable 3,100 to a more manageable 2,250 and add box seats to the side walls of the 85-year-old theater. The rehab also includes improving handicapped accessibility and adding a lobby gift shop and cafe.
The goal is to have the work completed in time for the Rochester Philharmonic Orchestra season in fall 2008. The university also is adding a new building next door for rehearsal and practice space for its renowned Eastman School of Music, located adjacent to the theater."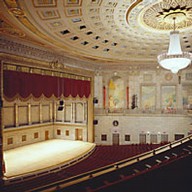 Eastman Theater Stage
Comments:
Note: You must be logged in to add comments
---
2011-06-18 21:42:12 The Eastman Theater (the main hall now known as "Kodak Hall") is truly a beautiful gem for the city. However, we just attended two concerts there as part of the Jazz Fest 2011, and sadly, the acoustics of the theater are absolutely dismal. We saw k.d. lang first, and figured maybe it was just her setup. The next night, we saw Elvis Costello, and although he put on a great show, again the sound quality was terrible, almost painful to listen to. We heard many other people commenting on this as we left, so we know it wasn't just us. It's a shame that after all the renovation (which they supposedly did in cooperation with a big acoustics firm) that this beautiful hall makes it nearly impossible to listen to music. —DottieHoffmann