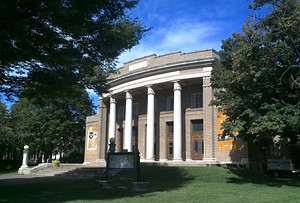 Lyric Theatre is a grand old building in the East Avenue Historic District that started life as a First Church of Christ, Scientist church. The Christian Scientists worshiped there for the next 100 years.
Declining membership in the twenty-first century led to the sale of the building to the Rochester Lyric Opera in the early 2010s. It was reopened as the company's headquarters and concert hall in 2015. The Lyric Theatre is also a popular venue for the Rochester Fringe Festival, the International Jazz Festival, and other performance groups and events. The main theater seats 900 people, while a new cabaret-style theater holds an intimate 150 people. According to the RLO:
Of the approximately 25 area public venues listed by the Arts and Cultural Council of Rochester that are actual theaters or auditoriums, only three are near 1,000 seats and only two of those are in the vicinity of downtown Rochester. None of the three has an orchestra pit, and the two near downtown do not have proscenium stages or back stage areas and are not conducive to the presentation of performing arts. Moreover, the owners of those theaters are not presenting organizations, and therefore do not attract national or international performers to their stages. The larger theaters downtown—Kodak Hall at Eastman Theatre and the Auditorium Theatre—serve their audiences well, but at 2,326 and 2,464 seats respectively, they are too large to suit the needs of smaller ensembles, chamber groups, individual artists and other local, national, and international acts.1
The building's ties to the local music scene go back much further, however. It was one of George Eastman's major inspirations for the Eastman Theater, as confirmed by its near-identical Palladium ceiling. They also share the same red clay-tile roofs and four massive columns.
Links
Comments:
Note: You must be logged in to add comments