George Eastman. Photo credit: Rochester Historical Society.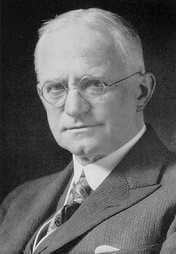 George Eastman. George Eastman (July 12, 1854 - March 14, 1932) was an inventor, entrepreneur and businessman who founded Eastman Kodak, made
motion pictures technically possible, and greatly influenced Rochester.
As a young man he became interested in photography. At the time, photography was a complex endeavor, in addition to the camera, you needed a darkroom tent and a case full of chemicals to coat the glass plates to make the
wet plate film. Eastman had heard about people using
dry plate film, which would eliminate the need for a trunk full of chemicals, and he began to experiment with his own dry plates. The plates were still glass, and bulky and fragile.
He started a business selling dry plate film, and then started researching flexible
film, the photographic chemicals dried on paper. Once he developed this, he was able to make film on a roll, and market easy to use cameras. Long rolls of film were the key piece of technology to make movies.
The company he started, Eastman Kodak, was Rochester's biggest employer for decades. George Eastman became very wealthy, and would donate an incredible amount of his fortune in his life and after his death.
With the success of his company behind him, he built what was, at the time, the largest residence in all of Rochester. Completed in 1905, his residence at 900 East Avenue became the musical center of the city. Today, Eastman's residence is home to the George Eastman Museum, an institution preserving the home and collections of Eastman himself, along with a vast collection of objects that came into existence with his help: photographs and film.
In 1924, he built Kilbourn Hall, a chamber music hall at the Eastman School of Music, and dedicated it to the memory of his mother1.
In 1932, in severe arthritis pain and fearing the same fate as his mother (who spent the last years of her life in a wheelchair), he committed suicide. His suicide note read "To my friends, my work is done. Why wait? GE."
George Eastman's Contribution to Classical Music
Also see:

Wikipedia article on George Eastman