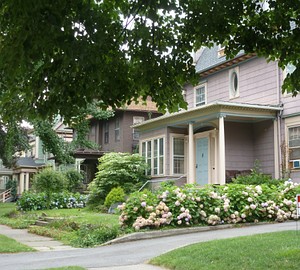 Side street between Park and East.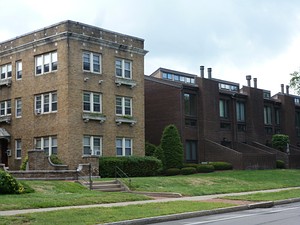 Old and new architecture side-by-side on East Avenue.
The East Avenue Historic District refers to the Rochester neighborhood centered on East Avenue as it runs from Alexander Street to the Wegmans. It was added to the National Register of Historic Places in 1979 as "Monroe County - #79001589." It encompasses 3620 acres and 700 buildings.
This area is the wealthiest neighborhood in Rochester, with nearly half of the highest-assessed in homes in the city being located on either East Avenue or side street East Boulevard.1 It is quite distinct from its livelier counterpart, the East End. The East Avenue Historic District is famous for its stately architecture, from the grand mansions on East Avenue itself to the smaller but still impressive homes along its side streets, such as Berkeley and Arnold Park. Styles include Queen Anne, Italianate, Second Empire, Gothic Revival, Strick-Eastlake, Shingle, neo-Classical, and Tudor. Many of the mansions remain single-family homes while some have been divided into luxury units. Others have been converted to professional offices, while the one belonging to George Eastman has since become the George Eastman House. The Frank Lloyd Wright House is located on East Boulevard and remains in private hands. Intermingled throughout are high-end apartment buildings, condos, and townhouses of more recent construction, such as 1600 East, Valley Manor, and Twelve. 24 North Goodman provides a good example of the Art Deco style.
The East Avenue Historic District is comfortably sandwiched between the Neighborhood of the Arts to the north, Park Avenue area to the south, and Culver/University/East to the east, allowing residents ready access to the amenities there as well. The East End, centered on East Avenue to the west of Alexander Street, is Rochester's premier entertainment district and is much more urban. Altogether these four neighborhoods compose one of Rochester's most exciting areas, loaded with myriad options for art, culture, nightlife, shopping, and dining.
Establishments
See also: East End and Culver/University/East
Culture and Education
Food and Drink
Health and Well-Being
Hotels
Services
Worship
Other
Events
Links
Comments:
Note: You must be logged in to add comments