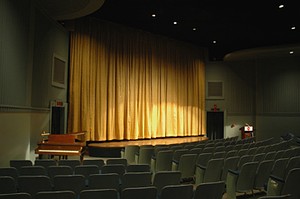 Interior view of Dryden Theater
The Dryden Theatre, located at the George Eastman House in the East Avenue Historic District, was constructed in 1951 after the George Eastman House received a generous donation from George and Ellen Dryden. Ellen Dryden was George Eastman's niece. The first film to be shown at the Dryden was Jean Renoir's silent film Nana (1924).
James Card (1915-2000) established the motion picture collection at George Eastman House. Card was a pioneer in the archival world and a close friend and confidante of Henri Langlois of the Cinémathèque Française in Paris. Together, they helped contribute to the appreciation of film as an art form.
The Dryden Theatre is the George Eastman House's main exhibition space for showcasing its collection of motion pictures, as well as selections from the world's other archives, and premieres of new foreign and independent cinema. To date, more than 13,000 film titles have been screened using the original Century projectors installed over fifty years ago. It is one of only three theaters in the country able to screen rare nitrate film. In March 2013 the theater was renovated and now also has digital projection. New seats were installed, offering more legroom in the balcony, which brought the original 535 seats down to 500. The Dryden Theatre attracts more than 40,000 visitors each year.
One of the more unique features at the Dryden are their Silent Tuesdays. Each Tuesday a different silent movie is shown and resident pianist and composer, Philip Carli plays along live just like in the 1920's. Additionally, the Dryden Theatre also hosts such popular film events as ImageOut and the Rochester International Film Festival.
Admission Prices (2013)
Regular Dryden Programs - Advance tickets are available for select screenings.


General admission - $8.00


Students - $6.00


Members - $6.00

Take-10 Passes - Take-10 passes are good for 10 individual admissions. This pass gives you many options: you can use it to admit yourself 10 times; or yourself and a friend 5 times; or yourself and 9 friends one time; or any other combination you like! It's easy; just remember it's the same as having 10 individual tickets.


General - $65.00


Members - $45.00
Comments:
Note: You must be logged in to add comments
---
2008-07-24 18:58:36 The Dryden is a Rochester gem, different movies almost every night. You can pick up a schedule at various places around town, or better yet become a member and they'll send you one every 2 months. Members also get discounted admission. You never know what you will see here, a classic B+W movie, the Director's cut of Blade Runner, even the occasional porno (!) if it's historically significant, of course... —DottieHoffmann
---
2009-02-19 09:51:36 The Dryden is easily one of the best revival houses in the country. Jim Healy, Mike Neault, and the rest of the Dryden team do an amazing job with the programming. If you have any interest in film at all, there will be something on their calendar you will enjoy. Rochester is incredibly lucky to have the Dryden. —RaginRon
---
2009-08-02 07:45:42 I wanted to reiterate these comments. The Dryden is a real gem and Rochesterians are truly lucky to have it. Big cities don't have revival houses half as good or programming that is nearly as interesting and varied. Take this week's programming: a forgotten New Wave masterpiece, a Lerner & Loewe classic, a pre-censor Carole Lombard double feature, Clive Owen's first film (a Brit neo-noir), and Steven Soderbergh's newest project. I should also expand on the worth of membership. My wife and I have a yearly museum pass for $70: we go whenever we please, get guest passes for both the museum and the Dryden, get invited to special events, and our tickets to movies with Take-10 end up costing $4 a pop. You also get free admission to museums around the country and world, including NYC's International Museum of Photography. This is by far the best membership value I have ever had. —RochesterGuy