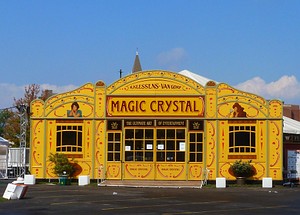 The Spiegeltent from Malle, Belgium. It is one of the Fringe Festival's most popular venues.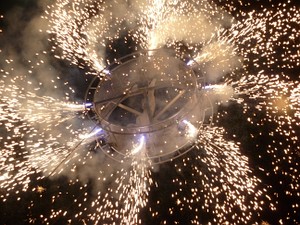 Grand finale of
Circus Orange's free TRICYCLE performance in MLK Memorial Park on September 19, 2014. The acrobat was suspended in a wheel by a crane some 60 feet up.
The First Niagara Rochester Fringe Festival is an annual event held in downtown Rochester, especially in and around the East End. In addition to facilitating ten days of shows in twenty-eight different venues, the Fringe also produces its own headline shows, as well as coordinating free entertainment on Gibbs Street. Since its inception in 2012, the Rochester Fringe Festival has grown into one of the largest multi-arts festivals in the state. Over 50,000 people attended in 2013, making it one of the largest fringe festivals in the country1. In 2015 it maintained that position as attendance grew to over 63,0002.
The idea of a fringe festival originated in 1947, when eight theater groups turned up uninvited at the new Edinburgh International Festival and set up their own performances. The term "fringe festival" was coined the following year by Scottish journalist Robert Kemp to describe informal indie shows. Today there are more than 200 fringe festivals celebrated worldwide. Only twenty are in the United States.
The Rochester Fringe Festival is run by a not-for-profit, 501(c)(3) corporation that was pioneered by several of Rochester's esteemed cultural institutions, including Geva Theatre Center, the George Eastman House and Garth Fagan Dance, as well as up-and-coming groups like PUSH Physical Theatre and Method Machine. The Board of Directors also includes representatives from the Rochester Downtown Development Corporation, the University of Rochester, the Eastman School of Music, RIT, Boylan Code LLC and Mengel Metzger Barr.
Mission Statement
The First Niagara Rochester Fringe Festival exists as a means to connect venues, performers, artists, educational institutions and the audience. The organization facilitates an open environment so that artists and performers can stage their own work and venues can decide on their own programming. Fringe festivals are creative and economic engines for their host communities, and the First Niagara Rochester Fringe Festival will be no exception — it will draw crowds into Downtown Rochester's East End as well as dollars into the local economy.
Comments:
Note: You must be logged in to add comments