Viewing Platform by- Andrew88
Martin Luther King Jr. Memorial Park is is a small park located in downtown Rochester, across from the Strong Museum. It was previously called Manhattan Square Park, which is still the name of its neighborhood. It was renamed after Martin Luther King, Jr. in 2013 in a dedication ceremony held during the holiday festivities on December 7.
History
Prior to the urban renewal demolition of the sixties and construction of the Inner Loop, the area occupied by MLK Park was a part of a residential neighborhood of houses and tenements that linked downtown to the Alexander/East area. Their demolition created the open space that is now occupied by the park. Constructed in the 1970s, the park's major features originally included a towering steel viewing platform and a sunken fountain area, but these are now both closed. There was also a small cafe and a concert stage that was used for free outdoor concerts - the original Party in the Park.
Winter Months - Skating and Sledding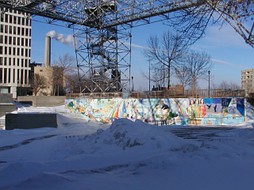 Winter at Manhattan Square Park
The ice skating rink is a popular feature open in winter months along with sledding on the park's small hills. The rink operates seven days a week and is generally open Thanksgiving through mid-March (weather permitting). Skates can be rented but many bring their own skates. There is a fee to use the ice most times but there are some free open skate times weekly. Ice rental is also available for parties and community groups. Call (585) 428-7541 or check the city website first for hours and fees if you're planning on going.
The rink was renovated in 2008 and transformed from an oval to a kidney shape that is 30 percent larger.
Summer Months - Playground and Green Space
The Manhattan Square Park Playground is located here, adjacent to the Strong National Museum of Play. In 2014 the Party in the Park returns here to its original location.
Manhattan Square Lodge
After undergoing renovations, the modern lodge in the park reopened in January 2013 as a space for parties and events. It seats 200 people and has a full kitchen.
The park also has benches popular with downtown office workers at lunchtime.
Other
Links
Comments:
Note: You must be logged in to add comments