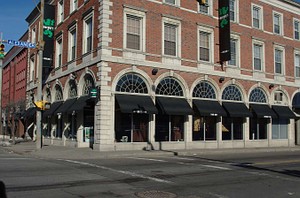 Murphy's Law Corner of East and Alexander, March 2010
Locations
370 East Avenue, Rochester, NY 14604
759 South Main Street, Canandaigua, NY 14424
Hours (as of December 2019) - East Ave
Daily: 11:30AM to 2:00AM
Food: 11:30AM to 12:00AM
Hours (as of December 2019) - Canandaigua
Monday -Friday: 11:00AM to 1:00AM
Saturday: 11:00AM to 2:00AM
Sunday: 10:00AM to 1:00AM
Food: 11:30AM to 12:00AM
Phone
585 232 7115 - East Ave
585 412 6414 - Canandaigua
Alcohol
Yes
Email
<Info AT MurphysLawRochester DOT com>
Websites
https://murphyslawrochesterny.com
Facebook East Ave
Facebook Canandaigua
Murphy's Law Irish Pub is an Irish-themed bar and restaurant on the corner of East Avenue and Alexander Street. It has a balcony level that can be rented for private parties.
It opened its doors in March 2009. An Empire Boulevard location opened in the former Southpoint Restaurant and Bar location on February 27, 2017; it closed in December 2019. A Canandaigua location opened during 2018.
Awards
Murphy's was voted "Best New Bar" in City Newspaper's 'Best of Rochester' awards in 2009.1
Comments:
Note: You must be logged in to add comments
---
2009-03-17 18:21:09 I was there on the day of the St Pat's Day parade and it is really nice. Great staff, cool set up. Hopefully they get/have wi-fi. —BadFish
---
2009-03-18 11:22:58 Great place! Chill, nice beer selection, looks good inside, makes me want to go back to the East End. A great departure from the typical Ronnie Davis bar. —MrRochester
---
2009-03-21 19:25:19 A lot of bartenders means not a lot of waiting when it's busy. I went there on St. Patty's day and last Thurs. night. Clean crowd, good music, and the atmosphere feels like a bar in NYC. I like the place a lot. Haven't eaten there yet, so can't comment on that. —CJM8232
---
2009-04-02 16:08:45 Awesome place, classic Irish Pub. Very attentive,nice bar/waitstaff. Awesome selection of draft and bottled beers from all over the world..clean, great atmosphere. Have had the Nachos and Rueben sandwich.....Great nachos and best Reuben Ive ever had...around 12 menu items with more to come....overall A+ —Devan4u77
---
2009-04-05 09:32:31 very clean and attractive inside. Great food including a nice Reuben, shepherd's pie and beef stew. Their fresh-cut fries are also delicious. 5 dollar 20 oz Guinness isn't a bad deal, either. —mooster42000
---
2009-05-20 14:17:11 generally don't like the east end vibe, but this was a nicer place than expected. bartenders were on top of things and friendly—i didn't wait more than a minute for a re-fill or at least awknowledgement from a server. would be a place to hang out for a while with a group of friends. —Leisel
---
2009-06-20 14:22:13 You know, I love this bar but the guys at the door are the biggest douchebags. My buddy couldn't get in because he had camo shorts on. Several weeks ago I was in line with my girlfriend and the bouncer with the weird eyebrows (you know the one) blatently went around us and got the 3 little single chicks and let them in in front of about 8 people. He didn't even know them obviously. —BadFish
---
2009-07-18 20:14:30 I have been there multiple times to drink. It's always busy since it is the newest bar in Rochester, and in the East End. Nice bathrooms. Good beer selection and friendly bartenders. One bad experience: ordered a jack & ginger which was mostly ginger. Not happy to pay $6 for ginger ale. —MariaO
---
2009-09-18 21:56:10 PBR in a bottle. Go for it! —idontknow
---
2010-03-18 02:06:31 Don't let the looks deceive you. This bar is BAD NEWS! I have been here several times and have received, not only terrible service, but also food that must have been bacteria ridden. This is the absolute worst food in Rochester by far. I thought it would just be the first time I visited, however, both times I got food poisoning. From my personal experiences at "Murphy's Law" as well as word of mouth, I find this bar to be severely mismanaged. —JohnMcFadden
---
2010-05-03 13:11:13 Totally disagree with Johns comments. Been there plenty of times. Always had good food and great service. It's a bit too packed for me on the weekends but it's a great place for happy hour during the week. Also, having the baseball package is extra incentive for me! —AndrewSimone
---
2010-05-12 03:10:03 Certainly a waste for a beautiful building. The food is typical American greasy unhealthy cuisine. I met and hung out with a woman who rightly complained about their slow service on a slow night. And later, 20 minutes before closing time, I was denied service while just a few minutes later some other women (who I had also been friendly with earlier) were given service. Basically this is an intellectually-deprived meat-market where the employees get jealous if a customer gets too much attention. Well, I'll be seeing the that first woman later at another place.
---
2010-06-01 17:47:55 I was also denied entry one night because I had camo shorts on. Turns out this was ok, as I didn't even want to be there to begin with (we were out for a friend's birthday). Stay away unless you enjoy the typical East and Alexander Douchestravaganza. —foxual
---
2010-08-31 12:11:32 I guess I just go on the right nights... I haven't eaten at Murphy's Law, but I've been there for drinks, typically after trivia night at The Old Toad (just for a change of pace) and the beer selection is fine, for what it is, and the service is generally fine too. Last visit was a little slow, but it was far from unacceptable. —DavidGottfried
---
2010-12-27 01:56:02 Great bar scene at night —DE
---
2012-07-12 09:10:11 foxual: Camo shorts? you may have been part of the Douchestravaganza if you're wearing those! Murphy's is a solid place to party, it is packed after 11 so be prepared for that, you will get bumped and you will see people you know —PDub

---
2012-09-19 08:46:19 I feel I need to add some new comments after my 2010 comments. My friends and I now go to Murphy's nearly every Monday night, regularly get nachos, wings, beer and whiskey. Excellent service, fantastic bartenders, and the food is great. I'm not a big fan of going to East and Alexander on Friday or Saturday night, so I'm sure it's insanely busy and full of "the young people," but on off-nights, I absolutely love this place. A+ —davidgottfried
---
2012-11-01 02:02:16 I'm torn on Murphy's Law. On the one hand, the food is really excellent. The idea of the menu is bar food, which sounds unexciting, but it's done very well and I would eat there regularly if it had a more inviting atmosphere. But I shy away from going very often because it tends to be packed with the party crowd, which is not my scene, and because the waitstaff tend to be flaky and cold whenever there's any kind of a crowd. Go on a Tuesday night in January, though, and you'll have a nice time hanging out with the bartenders and eating some really good food. —GeorgeOliver
---
2017-03-01 18:48:54 Second location at 1400 Empire Boulevard opened February 27. —markjackson