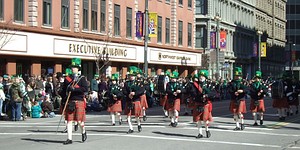 2009 Photo BradMandell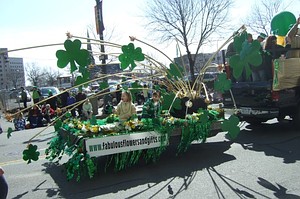 Fabulous Flowers and Gifts 2009 - BradMandell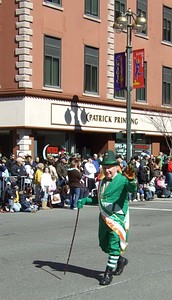 2009 Photo BradMandell
A Rochester tradition for over 30 years, the annual St. Patrick's Day Parade is organized by the Rochester St. Patrick's Day Parade Committee, Inc. Every year Rochestarians turn out in droves to join the festivities. In 2006 more than 80,000 spectators attended. Traffic is rerouted along the parade route which starts on East Avenue and goes to Main Street ending at Plymouth Avenue. Parade headquarters are in the Radisson Hotel Rochester Riverside.
The parade is one of many ways that Rochester celebrates St. Patrick's Day.
Planning and participation information can be found on the website.
History
The Rochester St. Patrick's Day Parade was first held in 1978.
Video

Photos

Past Participants

Comments:
Note: You must be logged in to add comments
---
2009-03-14 18:54:10 What a delightful, clear sunny, crisp day for the 2009 event. Lots of groups marching (or driving) this year; nice crowds and fun for all. Senator Chuck Schumer marched with a bullhorn cheering the viewers on. Pictures and video to follow. —BradMandell
---
2012-03-21 20:22:48 Meh. I got tired of it after about 45 minutes. Mostly people in green walking, plus a lot of military and law enforcement. St. Patty's Day 2012 was mostly notable for the trashing of Monroe Avenue.
Warning: If you go to the parade, East Ave from Alexander to past Gibb's Street will be jammed with crowds. Parts were almost impossible to get through. Make sure you get there early. —EileenF