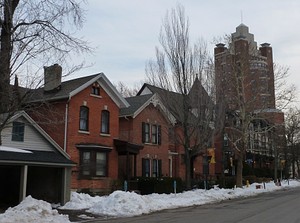 Gibbs Street, with the Eastman School's high-rise undergraduate dormitory in the background.
Grove Place is a small downtown residential neighborhood centered on Gibbs Street, just north of the Eastman Theater. It has many 19th century brick townhouses, as well as multi-family and single-family homes. Newly built two-story condominiums mix in well with the beautiful older architecture, including Windsor Lofts. Residents are mainly young professionals, Eastman School of Music students, and empty-nesters.
The Grove Place Historic District makes up a large portion of the neighborhood.
Establishments
Comments:
Note: You must be logged in to add comments