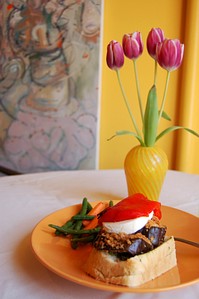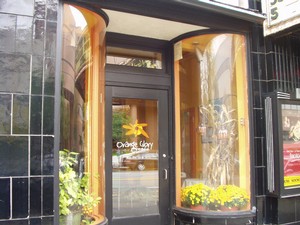 Orange Glory is a cafe in the East End next to the Little Theater. They specialize in upscale sandwiches and salads and are open solely during weekday lunch hours. The restaurant also runs a catering business. They use local ingredients and local producers whenever possible.
They had opened a second location on November 7, 2012 at the Times Square building on the corner of Exchange Boulevard and Broad Street, but that was short-lived and closed soon after.
Sandwiches are mostly priced at $6. Quiche ($5) and pasta options ($7+) are usually available.
You can add a large homemade cookie and a small salad (Asian Noodle, Fruit, Mixed Greens, Potato) to any item for one dollar.
Awards

Orange Glory's "Spinach Burger" was awarded "Best Corruption of a Healthy Food" in City Newspaper's 'Best Of Rochester' Critics' Choice Awards in 2008.1

Comments:
Note: You must be logged in to add comments
---
2007-04-08 14:37:59 My new favorite lunch! The cookies are excellent. —AndrewHallidie
---
2007-04-26 15:30:58 Yeah, this is one of the best bangs for your buck in Rochester. The lentil burger is especially delicious, and the cookies are killer. Really some of the best cookies I've ever tasted. The couple who run the place seem like nice folk too. I just wish their hours were a bit more accommodating (evenings? weekends?). —ArlenMoller
---
2007-05-19 21:22:55 I've just found this online while doing a search for Jackie, because I used to work with her. I'm so thrilled that she's doing so well. I had no doubts after tasting her cooking. I sincerely hope that she'll write a cookbook one of these days. I'll buy it for all my friends. She's the best cook I've ever met. I'll be stopping in soon and I know I'll be blown away. Congrats, Jackie. love, Jenna (Hoyt) Meaker. —JennaMeaker
---
2007-05-31 09:30:30 I wish this were open on Saturdays or one evening a week. My boyfriend and I work regular 9-5 jobs and we'd love to go, but we can't! —AdrienneDahler
---
2007-06-25 08:25:08 Orange Glory makes my favorite sandwiches in Rochester. Personal favorites are the crab cake, eggplant, and lentil burger sandwiches. The cherry chocolate coconut and lemon cookies are out of this world. —RochesterGuy
---
2008-05-27 00:31:15 Finally got around to buying one of the raved-about lemon cookies. I gotta say, it was well worth the raving. Fantastic! —MattDeTurck
---
2009-06-07 20:34:58 I had the spinach burger, and it was worth every penny. —BobbyJones
---
2009-07-10 10:20:55 I'm addicted to the place - love love love the spinach burger and the lentil burger. Lemon cookies are really good but I'm partial to the choch chip. —DesignDreamz
---
2010-05-27 14:43:18 I randomly ordered the spinach burger cuz they were out of the sandwich i wanted, and I'm glad I did! It was very yummy. Their potato salad was very different from the traditional potato salad, as it had the appearance of homefries, but it was still tasty. —TippingPoint
---
2011-09-01 15:45:32 I stopped in today and had a mushroom-artichoke ruben with a side of sesame noodles. IT WAS SO INCREDIBLY GOOD. Complete with a tasty, tasty lemon cookie, my total was only $9. And to top it off, the place itself is so tiny and adorable. I would say this is my new favorite restaurant except for those dreadful hours! Like another comment says, most of us work during that time. —EileenF