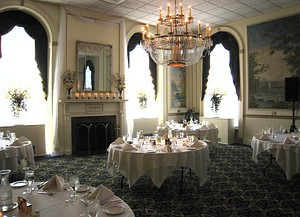 The ballroom, set up for a wedding, May 2009
The Inn On Broadway is a historic inn located in the East End of the city, near the Sagamore on East. The Inn was built in 1929 as the University Club. Rooms range from traditional hotel rooms for the business traveler, to Deluxe rooms with fireplaces and/or jacuzzi tubs, to Suites. The Inn also houses Tournedo's Restaurant.
The inn hosts an adjacent outdoor stage as part of the Rochester International Jazz Festival.
Comments:
Note: You must be logged in to add comments