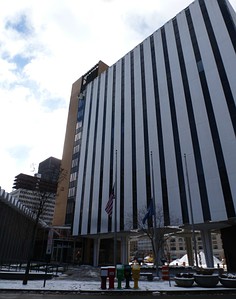 November 2013, showing the Midtown construction site in the background.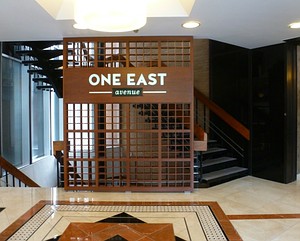 The lobby.
One East Avenue is an eleven-story high-rise overlooking the
Midtown Development Site. It was completely renovated in 2013. There is an Albert Paley sculpture in the lobby and a banquet hall called The Penthouse on the top floor.
According to the Landmark Society:
One East Avenue, built in 1962, was originally constructed for the Security Trust Company. . . This striking example of 1960s architecture consists of a two-story glass-enclosed public banking facility, an adjoining 11-story tower, and an outdoor plaza. The public banking facility is notable for its imaginative roofline, glass walls, and Rochester artist John Menihan's 130-foot-long mural, a symbolic tribute to the diversification of Monroe County's economy. The Tower building, resting on stilts, is notable for its band of quartz aggregate and gray-tinted glass.1
One East Avenue is situated on the border between the Midtown District and the East End.
Comments:
Note: You must be logged in to add comments