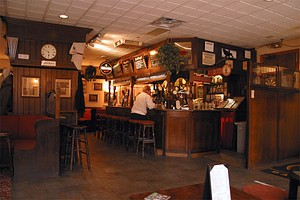 The Bar at the Old Toad - photo by TomMaszerowski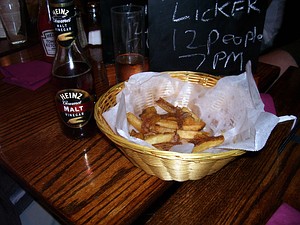 Chips and vinegar. Photo by
Aaron Schock
The Old Toad is Rochester's British pub. Despite being located in Rochester, NY the pub is managed, run, and staffed by British exchange students from local hotel and restaurant management schools. While the food does not quite live up to the genuine article, everything else about has an almost perfect British feel. If you want to go someplace where the bartender knows cask ale from keg ale, this is the place to go.
Plus it has authentic imported European bartenders, what more need be said?
The Old Toad is housed in the ground floor of the historic Medical Arts Building, in the Lower East End neighborhood.
Points of interest

Trivia Night. Open trivia at 9:30pm on Mondays; more difficult fee trivia on Sundays.


Quality Dart Board


Board games/Jenga available upon request


Quality wooden booths and tables


Imported British Waiters/Waitresses (aka "Hot accents")


Serve Chartreuse (Yellow usually, occasionally they have Green)


Queen Victoria's portrait looking down at you as you chug a Guinness


Cask ales available

Awards
Voted "Best Fish Fry" by City Newspaper's 'Best of Rochester' Awards in 2015.1


Voted "Hottest Waitstaff" in City Newspaper's 'Best of Rochester' Awards in 2009.2


Voted "Best Pub/Tavern" and "Best Straight Bar" in City Newspaper's 'Best of Rochester' Awards in 2008.3
Comments:
Note: You must be logged in to add comments
See Archive Page for comments prior to 2009.
---
2009-01-07 08:34:05 We love this place...great comfort food on a cold Rochester night. Fantastic beer, and the wait staff are generally excellent, although we have had a few seriously incompetents (Matt is a delight).
Appetizer size Yorkshire pudding with Roast Beef is perfect for what is it. Overall, the whole experience feels like a quick trip across the pond. —LeGrandChien

---
2010-08-01 15:30:19 I went here last night for my gf's birthday. Once again it was a great time, the service is excellent and the beer is good. My gf seemed to like her drink here, which is good since I don't think they get many orders for Amaretto Sours. My waiter looked like that kid from Arrested Development. —DamianKumor
---
2010-08-01 23:09:33 I've been going here for years, mostly for the trivia and the beer selection. No complaints with either of those, although they could do their patrons a favor and upgrade their PA system for trivia :)
My big issue with the Toad is the food. It's often badly prepared. I like British food and I'm familiar with the dishes on the menu, so it isn't an issue of the cuisine itself. The cooks seem to have some trouble actually cooking it and the quality of the ingredients is pretty poor, even for pub food. If tomatoes are in season (which they are now) and the ones being served are pale and mealy, there's an issue. If the lettuce isn't fresh and shows signs of age, there's an issue. Both of these things have happened to me multiple times at the Old Toad. They aren't buying quality ingredients, nor are they practicing quality control in the kitchen.
Tonight I ordered a burger with fries and a salad. The greens on both the burger and in the salad were rotted. Slimy. And considering slime is one step away from mold, it went beyond the aesthetic issue of "less than fresh" greens and into the territory of "make you sick" greens. Neither is acceptable in a restaurant, but rotted is just gross. Rotted lettuce is a telltale sign that something is going terribly wrong in the kitchen. The fries were also not cooked all the way through, which is a bit mind boggling. I'm not some super particular person about fries... it's fried food, after all. But a fry that's cold and hard in the middle clearly didn't spend enough time in the fryer, and it ain't gonna taste good.
I brought the rotted lettuce up to the kitchen, because I think it's important for them to know that there are real people eating their food. The waitress looked concerned and I'm assuming she told someone about it, but was only able to comp us half of the entree in question. The kitchen also sent out a plate of fresh lettuce, probably because I didn't send the entire entree back (which I should have). It was a gesture, but probably not enough of a gesture considering the restaurant served a customer rotted food. And lettuce counts. Rot is rot. Imagine if a burger came out with slime on it...
So I won't be eating here again until the kitchen is under new management and I hear some positive feedback from patrons. In the meantime, I'll have to discourage my friends from ordering food at the Toad. Every restaurant can have an off night, but this was too off. —MariahBetz

---
2010-10-22 10:02:13 I visited the Toad in April, 2010 and teased the barmaid that it wasn't an authentic pub because they didn't have steak & kidney pie on the menu! I had the bangers & mash and it was great — the exact flavor I remembered from years past when I lived outside of London. I e-mailed the Toad last week Monday and told them that I would be traveling 750 miles & would like to have the S&K pie on Friday, so please have it ready. No one was more surprised than me when I arrived, asked if they had it, and was told YES!! The crust was perfect, the texture was perfect, and the taste was better than perfect! I thought I was having a joke on them, but they had the joke on me by having this special lunch ready for me. I think that this is way past customer service with a smile. Thanks again, TOAD. —carcat
---
2010-10-28 16:34:31 I've been to the Old Toad many times, and I *love* the food, drinks and atmosphere! Their fish fry (full size) literally hangs over the plate, and has a very crunchy/crispy outside, and well cooked & moist inside; also their homemade tartar sauce is one of the best I've ever had! That, coupled with the ever-extensive beer list — typically 15+ unique beers (with your standard Guiness and such too) on tap, and pages upon pages of bottled beers, make this place a must-visit. I'll definitely be back! P.S. I've been there on Halloween, and the whole staff dresses up in various costumes—great fun! Thanks Old Toad, keep up the great work/business! —Twilightzoner
---
2011-04-15 21:49:06 First and last time. The place wasn't busy but it took the waiter several minutes to figure out where to seat us - then we got put at a strange corner seat that was configured in such a way that really only two people could be comfortable. Two drinks were ordered for the 3 of us, only 1 of which came. The waiter then told us that food was taking a long time to come out. We ordered the cheese and beer soup, a burger and two of us had the BEER battered fish fry. The cheese soup came out with a spoon still crusted with cheese - it only took at least 2 full minutes to bring us a new spoon (you might think of stocking the server station with soup spoons!) I will admit the soup was tasty. Our meals then came out (not all at the same time I should add). The fish was incredibly greasy and had zero flavor. There is no way this was beer batter - it tasted like flour and water. The chips were so-so at best. The whole experience was a disaster, staff didn't know where to sit other guests, seemed completely confused when they had to bus a table, couldn't manage to bring out a meal AND have silverware on the table at the same time etc. It looked like the place had just opened. It might be a fun place to grab a pint but skip the food. —TiffanyBarber
---
2011-05-19 08:41:27 TC I hate to tell you this, but The Old Toad has some the best comments I've seen for a place that's as popular as it is. Don't get hung up by a few comments. —DamianKumor
---
2011-06-07 18:43:12 Wow, what a selection of brews and scotch. Had a damn good time the other night. Only ordered a basket of chips, but they were delicious and addictive, very surprising since I usually dont like thick cut but it was perfectly cooked and light on the inside. Will be going back —jberna
---
2011-11-04 15:20:17 The warm, cozy, welcoming atmosphere of the Old Toad really is a classic, British Pub in every possible way, beating out, in my mind, all of the so-called "Irish Bars" that really are closer to Irish-American. The food is, yes, English pub food. In many ways, it will be not be what is expected by an American palette, any more than the food served in an Indian or Thai restaurant would be. Some of the dishes have been modified slightly for improved flavor, as would be the prerogative of the cooks in any good pub, but not beyond what would be reasonable for good pub food. However, please do not expect American bar food. The brew is a fantastic collection of local micro-brews that have always been worth a try. (No half-frozen, watered-down green beer here!) If you want comfort and a pint with friends, it's a real treat. —portiastluke
---
2011-12-12 12:37:22 Went back, loved the beer as usual. Tried the scotch egg and it was....well....a scotch egg. Nothing special, not bad but not great. Had the fish and chips. This time the chips sucked, undercooked and flimsy, but the fish was awesome. The wife had shepard's pie and I was not impressed, kind of bland. Hopefully they'll find some way to maintain consistency, the chips the first time I went were spectacular. However, everything was under-seasoned, so if it weren't for the tartar sauce, the fish would have been bland as well. —jberna
---
2012-04-15 20:29:08 Delerium Tremons and Veg Bangers and Mash — the best. Or yorkshire pudding. Mmmm! —xanthm
---
2012-12-17 13:37:04 The Old Toad has been a place that my boyfriend and I frequent. We love the fish and chips (w/ mushy peas of course)! I would eat that dish every dayyy. I also like the king's cross sandwich and the OT Burger. Definitely go when the Mr. Mustard (Beatles cover band) is playing. It just adds to the already awesome atmosphere. The service is good when it's not too busy, but good luck seeing your waiter when their really swamped. But most of them have cute british accents so it doesn't matter to me! i love the old toad! —CMonkey63
---
2013-01-12 18:07:35 Every time my husband and I try to eat at the Old Toad, we have an experience similar to TiffanyBarber. That is, it takes a server forever to greet us or bring drinks. The wait time for food is incredibly long, and often they are "out" of essential components of menu items. One time, when I tried to order a certain thing and was told they were out of it, I ordered the fish instead, only to be informed 20 minutes later that the fish wasn't defrosted ... Well, at least my third choice worked out. After that experience, my husband and I avoided the Toad for a couple years, but decided to give it another try last Saturday evening, and same old: After having sat at a table for 15 minutes with no server even acknowledging our presence, we just gave up and walked down the street to the new MacGregors, where at least we know we can always get reliable service in addition to good food & beer. So, my 2 cents: go to the Old Toad for the drinks & board games ... but don't go hungry. —ajh