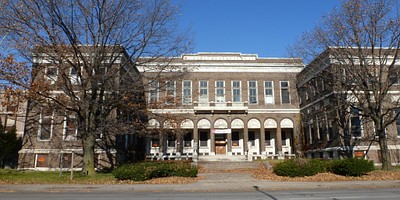 View from East Main Street, as of November 2013.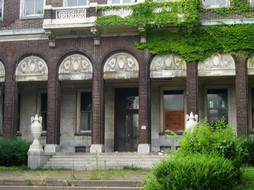 Close-up of architectural detail.
The Eastman Dental Dispensary is a former dental hospital and school of the University of Rochester. According to the Rochester Business Journal: "The dispensary promoted preventive and reparative treatments, educated dentists and developed dental equipment and materials at a time when dental care was largely non-existent throughout the world. . . It was also the first school in the United States licensed to train dental hygienists." Its design was based on the Italian Renaissance palazzos, with a symmetrical U-shape plan around a central court.1
It was abandoned in 1978 when a new dental facility was built at the University of Rochester Medical Center.
In July 2007 the property was purchased by Scott Donaldson, a local entrepreneur who also purchased and restored the nearby Armory. It was converted to a haunted house for the 2007 Halloween season called the "House of Pain." For the most part, however, the building sat vacant until August 2013, when Home Leasing LLC and
Edgemere Development Inc. announced that they plan to redevelop the space into 57 apartments for middle- and high-income seniors.2 3 The finished product will be called Eastman Gardens.
The Eastman Dental Dispensary was listed on the National Register for Historic Places in 1983. It is located on the edge of Marketview Heights, within walking distance of the East End and the Public Market.
Links
Comments:
Note: You must be logged in to add comments
---
2015-03-11 19:57:40 Trying to make this building into housing for middle- to high-income seniors is a terrible idea.
It's located on the edge of a dangerous Crescent neighborhood. Yes, the Alexander-Kenilworth-Champeney Terrace pocket is generally okay, but Marketview Heights goes downhill real fast. People have been saying for years that Marketview Heights is going to be the next South Wedge but it keeps not happening.


That part of East Main is ugly as hell (although they're working on it) and living in a beautiful old building isn't going to make up for it.


Proximity to the Armory means lots of noise and traffic. Most seniors want peace and quiet.


That part of East Main is unsafe for bicyclists, pedestrians, and motorists alike. For people with declining facilities, that's a big deal.


Despite the hype, the myth of the empty-nester returning to the city doesn't play out statistically. Most Boomers are aging in place and there are plenty of options for them in the suburbs where they already live.
Look, I agree that there is a need for upscale senior housing in the city. There are many well-to-do older folks here who maybe don't want to deal anymore with their big old Victorian's maintenance needs, but still want to be near the neighborhoods they've lived in for decades. This just isn't the location for it. The Park-East area already has some very nice places like Valley Manor. Something near Highland Park might be another option.
As for the Eastman Dental Dispensary, I really like the
Dream Tank's idea for a mixed-use facility that helps struggling young people. —EileenF