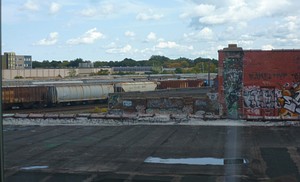 View of the Goodman Street Yard from an artist's studio loft at 176 Anderson Street. Taken during the Landmark Society NOTA tour of Sept. 29, 2012. For information on Amtrak service to/from Rochester, see How To Get To Rochester.
Rochester used to have a beautiful train station designed by Claude Bragdon in 1914. Alas, it was torn down in 1965 thanks to misguided "urban renewal" efforts catering to the almighty automobile. A few fragments have been preserved and were exhibited at the University of Rochester Dept. of Rare Books & Special Collections in 2010. To see what could have been, check out the grand Utica train station, which has expertly preserved and is often used for wedding photographs.
The next Amtrak Station was built in the 1970s and was actually meant to be a temporary structure.
The
Louise M. Slaughter Rochester Station (named after politician Louise Slaughter) opened in 2017 and is an Amtrak intermodal transit station. Local and regional bus transportation is provided by the Rochester-Genesee Regional Transportation Authority (RGRTA). Taxi firms also serve the station. The station is located on the north side of Rochester at 320 Central Avenue, as were the previous two stations.
Train Yards
Train Lines
Historic Railroads
See also
Future railroads:

External sites: