Location
320 Central Ave., Rochester NY 14605
Hours
See website
Phone
800 872 7245
Website
http://www.amtrak.com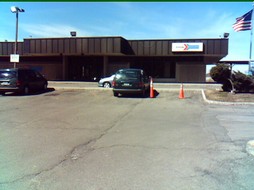 The Amtrak Station - photo by TomMaszerowski The Rochester Amtrak station replaced the Bragdon Central Station and is located near the previous station site on Central Avenue between Joseph Avenue and North Clinton Avenue. The station actually uses some of the original platform although most of it is unused and in bad condition.
Amtrak trains that stop here are the Empire (Niagara Falls to NYC), Lakeshore Limited (NYC/Boston to Chicago) and the Maple Leaf (NYC to Toronto).
See also How To Get To Rochester.
Rochester is in the Design Phase for a new train station that is intended reflect design influences of the old Bragdon Central Station while improving services to the public. Construction is expected to begin late in 2014. This is hoped to be the first phase of a new Intermodal Transportation Center which would also integrate bus service. See:
http://www.cityofrochester.gov/trainstation/
On October 28, 2014 a ground breaking ceremony was held for the new station.
Amtrak Station Platform - September 2009
Comments:
Note: You must be logged in to add comments
---
2014-12-08 11:08:55 FYI for anyone traveling here by train, they are always late
http://www.democratandchronicle.com/story/news/2014/12/07/amtrak-trains-delayed/20071661/ —Damiankumor
---
2014-12-08 11:47:33 I frequently use the train. Can confirm. —EileenF
---
2019-11-04 22:18:19 I've heard the construction phase of this project was a nightmare... Lots of issues hidden behind the veneers. —batguano