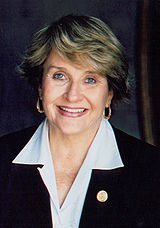 Louise Slaughter is a Democrat-party member of the House of Representatives representing the 25th Congressional District of NY which covers most of Rochester, Buffalo, and a strip of land across the Lake Ontario shore. Previously she represented the 28th district before it was redrawn. She is also the oldest woman currently serving in Congress.
Awards
Voted "Best Local Politician" in City Newspaper's 'Best of Rochester' Awards in 2015.1
Note: Staff for Congressman Slaughter may not be personally monitoring this page-please check the links for Contact resources.
Further Notes and References
Comments:
Note: You must be logged in to add comments