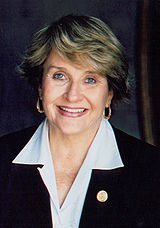 Birth name
Aliases
Dorothy Louise McIntosh
"Louise"
Birth date
Birth place
August 14, 1929
Lynch, KY
Date of death
Place of death
March 16, 2018
Washington, DC
Political Career
US Congresswoman, New York, 30th District (1987-93)
US Congresswoman, New York, 28th District (1993-2013)
US Congresswoman, New York, 25th District (2013-18)
Louise Slaughter was a Democratic member of the House of Representatives representing the Rochester area for 31 years. She previously had been elected to the Monroe County Legislature (1971, 1973, and 1975) and the New York State Assembly (1982 and 1984). The Rochester Amtrak station is named in her honor. She was the oldest woman serving in Congress at the time of her death.
Awards
Voted "Best Local Politician" in City Newspaper's 'Best of Rochester' Awards in 2015.1
Further Notes and References
Comments:
Note: You must be logged in to add comments