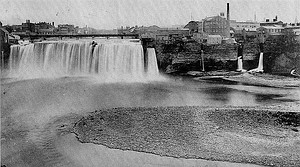 High Falls c. 1875-1880. From the back cover of T.X. Grasso's "Geology and Industrial History of the Rochester Gorge, Part One", Rochester History, LIV (4), 1992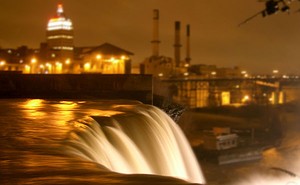 Photo By RyDahl
The High Falls is a waterfall in the Genesee River that is located
just North of downtown Rochester. Because of the falls, that section of town has come to be known as the High Falls District 1.
This area was once the center of Rochester's economic engine, due to scores of factories and businesses on both sides of the gorge using waterwheels to drive their workshops.
In the early 2000's the City of Rochester spent a good chunk of money trying to turn this section of the city into an entertainment district, but it never caught on. In recent years the area has evolved into a residential/business area with loft apartments and office space in tastefully renovated historic buildings. There are still several restaurants serving the area, as well as the nearby Frontier Field and Kodak Headquarters.
Geology

A large waterfall right in downtown! The High Falls are approximately 96 feet tall, or 14 feet shorter than the Lower Falls. The High Falls are also known for having killed Sam Patch.
History

The High Falls area was once the heart of the Rochester brewery and flour processing industry. In 2012 the Genesee Brewing Company renovated a historic brewery building just across the Pont de Rennes from High Falls into a visitor's center, microbrewery and restaurant. This Genesee Brew House provides a great view of the falls from its balcony and rooftop.
Links

Photos

1Offically it's the High Falls Heritage Area and Brown Race Historic District
2Via FlickrMail to BradMandell for use of any Rochester Photo
Comments:
Note: You must be logged in to add comments
---
2006-01-05 17:20:51 What's the name of the pedestrian bridge there? —TobinFricke
---
2006-02-20 17:17:45 Pont De Rennes is the name of the pedestrian bridge —BenMargolis
---
2006-09-22 19:26:20 LOve the brige, it's a great little walk and to sit on the benches and talk. It's a shame this area is so under appreciated. —TravisOwens
---
2007-05-29 14:07:50 Does anyone know the history of the door at the base of the falls. Looking at the falls from the footbridge, its on the left and so mysterious. I want to plan an expidition, but until then, I am curious to learn more! —LongGone
---
2008-03-24 08:53:58 Does anyone know the true height of High Falls? I believe that the crest was lowered for constructoin of the RR bridge. The photo from Geology
and Industrial History of the Rochester Gorge appears to indicate this. —ScottEnsminger

---
2008-12-13 10:08:42 How many cities can say that they have a waterfall in the middle of downtown? I can't think of any major city I've visited (besides Niagara Falls, of course) that has one. But for some reason, Rochester kind of pushed this area to the side. This could have (and should have, in my opinion) been the center, or the focal point, of our city. Not in terms of industry and what not.. but a feature of our city.. a very unique one that quickly summarizes the natural beauty of Rochester and our respect for it. Now, Rochester is trying to force people down here after years of neglect. Listen, I love telling people I can see where Genny Cream Ale is made from work but I don't actually like looking at that monster factory contrasted with the Falls. Same with the Beebe Station: on top of being a rusty eyesore, it blocks the view of the Falls! I feel sorry for the future tenants of The Mills! In short, I'm saying that before Rochester expects people to flood down to High Falls, maybe some of the blight in the area should be dealt with. —BatGuano
---
2009-07-13 11:21:13 LongGone: It's apparently just drainage for a former mill race, or something along those lines. Too bad, because it'd be really mysterious if it actually went somewhere. —macman5151
---
2009-09-05 21:48:09 The Falls were lowered from 96 ft to 81 ft in the beginning of the twentieth century (
http://www.rochester.lib.ny.us/~rochhist/v58_1996/v58i3.pdf) to allow greater water capacity during flooding. This attempt was prior to the building of the Mt. Morris Dam in the 1950's, and has since been adaquate to control the waters of the Genesee. —JimGibson
---
2018-02-18 16:30:21
http://www.rochestersubway.com/topics/2012/11/exploring-the-caves-of-rochester-ny/ This provides some info on the mysterious door at the bottom of the falls, seen in the pic above. Scroll down below "RICO Cave", and you will find original blueprints for the tunnel! I still wanna explore it. This directly relates to the illuminatte catacomb system —WBaldwin004