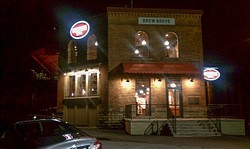 Exterior, need a better pic than this. (Nov.2012)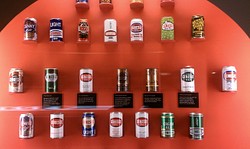 Old cans on display on the first floor. (Nov.2012)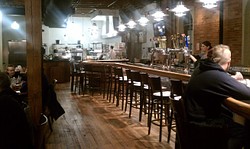 Second floor bar and kitchen area. (Nov.2012)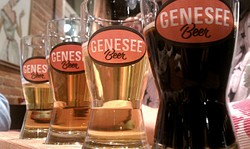 Beer flight, you can choose any combo. (Nov.2012)
Location
25 Cataract St, Rochester, NY 14605
Hours (as of September 2018 per website)
Monday - Wed: 11:00AM to 10:00PM
Thurs - Sat: 11:00AM to 11:00PM
Sun: 11:00AM to 10:00PM
Phone
585 263 9200
Wheelchair Accessible
Yes
Alcohol
Yes - Beer
Website
http://www.geneseebeer.com/brewhouse/
Genesee Brew House is a pub-style restaurant located at the Genesee Brewing Company, right across the pedestrian bridge from the High Falls District. According to its website, its 9,200 square-foot space is a "beer destination, featuring interactive exhibits, multimedia content, gift shop, pilot brewery and pub-style restaurant" 1.
Grand opening was September 8, 2012.
Awards
Voted "Best Outdoor Dining" by City Newspaper's 'Best of Rochester' Awards in 2015.2
Comments:
Note: You must be logged in to add comments
---
2012-09-12 10:40:49 Anyone been here yet? I want to ride my bike there on Saturday, is it acceptable to be there all sweaty or is it a little nicer? Do they have food? —PDub
---
2012-11-11 10:21:00 Went last night with friends just for beer and a snack, we had a great time. Downstairs is a museum on the history of Genesee and also of beer in the Rochester area. They are have a small "pilot" brewery in the back. Gift shop as well with all sorts of Genesee-branded merchandise. Upstairs is the brewpub and restaurant. I'll admit, Genesee beer is good beer, but it isn't great beer. That said, these folks are our local brewery and deserve our support. The pretzel appetizer was delicious. We didn't try anything else but everyone there seemed to be enjoying their meals. Menu is basic bar food, wings, burgers, wraps, salads, stuff like that. Better to keep it simple and do it well. Lots of parking right out front (where they took down the old Cataract building, sadly). Nice view of the high falls from the outdoor deck if they are lit up (can't see them that well if they are dark). Staff was friendly and helpful. Everyone should stop in here and check it out. —DottieHoffmann
---
2013-01-05 13:48:16 Had lunch there yesterday (1/4/13). The restaurant was nearly full. Where I sat gave me a commanding view of High Falls.
The wait staff was friendly and attentive, and in particular was able to answer my questions about the beer they had on tap. This will certainly be a popular stop since its within walking distance of the ball field.
The food. That's another story. First the prices. $9 for a burger and a side of chips is way overpriced. The quality of the burger. I asked for it to be cooked medium; and it comes back rare.
The gift shop had some cool ware. I will be back to make a purchase. The prices were not unreasonable.
Bottom line. Its a nice place to stop with friends for a beer. Once the warm weather hits, I'll definitely have my beer on the observation deck.
But for a meal. I'll pass next time. —MrPhil

---
2013-07-13 16:27:23 Really wanted to enjoy this place because the view is great and the outdoor seating is welcome in the summer time. Impressive looking place overall, but after three tries we won't be going back. Service each time was slow (not deal-breakingly slow, but confusing because it wasn't busy), food is expensive and not memorable save for the pretzels. The kitchen closes early (9pm), putting it out of the running for replacing the local staples like Jeremiah's. —JoshS
---
2013-07-28 11:03:30 Inside and out, view is great. Genesee Beer is underrated and this is a great way to show off their craft. But the food is mediocre (nachos come with liquid cheese like you'd get in a bowling alley) and way overpriced. The servers are clueless (when I was trying to decide between two choices on the small menu, instead of making a recommendation, my server said "I'll come back later when you decide" - this was on a slow midweek night), and that detracts from the experience. I want this place to succeed and I hope the food and service raise their game to match the venue. —bionicsimmons
---
2013-07-28 13:14:07 I took two friends who were in from Minneapolis for the weekend. We enjoyed every bit of our experience. The BLT we had was exceptional (nothing wrong with bacon!). We sat out on the roof and even though there is no service up there, the bartender who took our order ran it up to us when it was done, which was awesome. The view was perfect on a nice warm day, good selection of beers. I think this is a gem that more Rochestearians should check out, even if just for the view and a cold beer. —shawnalusk
---
2016-10-12 16:22:15 This place has become somewhat iconic for Rochester, I feel. The place is always packed. Food is hit or miss, but it's fine for what it is. The tastings room downtown is phenomenal, and they're always switching up taps. If there are out of towners visiting, usually they end up there. Really cool space and a cool view of the falls.
I'm not saying the place is perfect, or even a great (good?) place to eat. But it's really done a great job and it's always an entertaining and exciting place to go. —DE