Sign atop the Genesee Brewing Company building downtown. (by Flickr user RocPX
license info)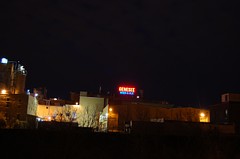 Genesee Beer and Ale sign at night by Andrew88
The Genesee Brewing Company was founded in 1878 1 from the Rau and Reiskey brewery. The early brewery was successful because of its location near the falls and the use of caves, dug in the rocks, to help keep the beer cool without refrigeration.
Genesee Brewing Company Timeline 2

1857 Charles Rau starts a brewery near the High Falls of the Genesee River. Renames brewery Rau and Reisky after taking partner, Emil Reisky.


1874 Entrepreneur Mathius Kondolf takes control of the brewery and renames it Genesee Brewing Co. in 1878.


1889 Investors purchase Genesee Brewing and its two neighbors, Bartholomay and Rochester breweries. John Wehle, a second-generation Bartholomay worker, welcomes the birth of son Louis, who one day will run the company.


1919 - 1932 Prohibition


1932 Prohibition repealed; Louis Wehle combines Genesee and parts of Bartholomay creating Genesee Brewing Co.


1952 Miss Genny appears in Genesee ads.


1960 Genesee Cream Ale introduced.


1994 J.W. Dundee's Honey Brown Lager hits the market. Annual output three years later will be more than 5 million cases.


2000 Genesee is purchased by private Rochester-area investors and renamed the High Falls Brewing Company.


2009 Brewery bought by investment capital firm which make it part of North American Breweries (NAB).


2009 NAB brings back the Genesee Brewing Company name for trade use.


June 6, 2009 - $10 Million Investment Seeks to Return Genesee Brewery to its Glory Days 3: The parent company of High Falls Brewery is committing $10 million into the turnaround of the local brewery. It's part of a plan to return the company to the "glory days" of The Genesee Brewing Company. North American Breweries is designating the money for a variety of upgrades and repairs to the plants equipment. - High Falls begins making the transition to its original name of The Genesee Brewing Company.


August 11, 2010 - Genesee Brewing's parent acquires Magic Hat and two other beer brands 4 North American Breweries bought out other beer brands Magic Hat, Pyramid and MacTarnahan.


2012 After controversial historic perservation debate, the brewery gets approval to demolish several buildings and create visitor's center and brewpub.


September 2012 - Genesee Brew House opens as Genesee's visitor's center, brewpub and test microbrewery.
Awards
Voted "Best Regional Brewery" in City Newspaper's 'Best of Rochester' Awards in 2015.5
Comments:
Note: You must be logged in to add comments
---
2010-04-11 15:24:45 the difficulty in finding Genesee at local bars is causing a lot of rage. Most places have genny light, some have Genny, and almost no one has it on tap. —JohnJoseph