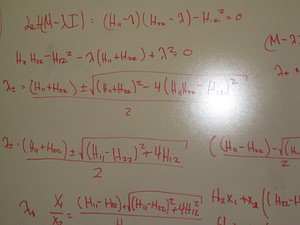 Students' work on one of POA's whiteboards.
Location
Room 374 in Bausch & Lomb Hall, River Campus
Hours (as of July 2016)
Monday - Thursday: 9:00AM to 12:00AM
Friday: 9:00AM to 5:00PM
Saturday: 1:00PM to 9:00PM
Sunday: 1:00PM to 12:00AM
Phone
585 275 4469
Wheelchair Accessible
Yes
Email
Tyler Dzuba, Librarian: <tdzuba AT library DOT rochester DOT edu>
Jeffery Jones, Library Assistant: <jjones AT library DOT rochester DOT edu>
Website
http://www.library.rochester.edu
YouTube
The Physics-Optics-Astronomy Library, or POA, is a library located on the University of Rochester River Campus. Their collection is especially strong in astrophysics, biophysics, condensed matter, nuclear and high energy physics, optics and quantum mechanics. They also house a growing History of Optics collection and subscribe to 225 journals, with access to an additional 10,000 electronic journals.
Controversy
In March 2010 the University of Rochester administration
proposed to remake most of the POA's space into a state-of-the-art computer lab for engineering students. Although only the portion containing the stacks was under consideration, reaction from students, faculty, and alumni was swift and heated. The POA, they argued, is not only one of the River Campus's most active libraries, but also provides support and camaraderie for students enrolled in some of science's most challenging disciplines. Protests included a Facebook group, numerous fliers, and passionate letters and editorials in the Campus Times (see
here,
here,
here, and
here). In the face of such strong opposition, the plan was scrapped by May and the POA was saved.
Photo Album
See also: University of Rochester/Libraries
Comments:
Note: You must be logged in to add comments