The History page provides a chronology of the rich and wonderful history of Rochester, NY.
A broad overview of the greater Rochester area may be found on the Genesee River Valley page. Also consult our Landmark Society page for more information on touring or learning more about Rochester landmarks.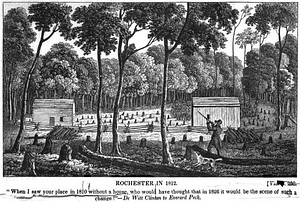 Rochester 1812 - see note Other history resources include:

Below is a time-line of significant events with summaries and links to further reading on RocWiki.
Prior to Rochester Settlers
As described in the Vingage Views Timeline

1803-1838 Early Settlers
1838 Book Etching. Pg 255
As described and depicted (picture right) in 1838 publication and from other referenced sources.
Cholera epidemic tears through the city, taking with it roughly 2,500 lives or 1% of the population over just six short weeks.
"Settlement in the West: Sketches of Rochester" By Henry O'Reilly in 1838. This 300+ page book is filled with important details of the early days of Rochester. 2
The Western House of Refuge opened with room for 50 juveniles. It was the first authorized state-supported institution for the confinement and reform of juvenile delinquents in the United States.
Worst flood in the city's history, with water as deep as 6' at Four Corners. All but 10% of the streets in 1st ward are submerged. Total damages in western New York exceed $1 million.
Naphtha fuel from the Vacuum Oil Works seeps into the sewer causing three successive explosions The alarm following the first explosion brought residents to the streets to be caught in the succeeding blasts.
Lantern Works fire cremates 35 trapped workers and injures countless more who jump to safety.
Spanish Flu epidemic takes 1100 lives within four months.
June 30th - The Rochester Subway is abandoned as they stopped passenger service, primarily due to the prevalence of the automobile.
March 21st - $2 million worth of damage caused by fire on Main Street of nearby Hilton. It took 500 fire fighters to contain the blaze. (external link)
A break in the Barge Canal floods the Bushnell's Basin area of Perinton in southeastern Monroe County, destroying 41 homes and damaging many others.
November 16th - Fire at the Greece Holiday Inn on West Ridge Road kills 10 guests, mostly Canadians in town to shop.
July - The burials in Highland Cemetery are discovered when a bulldozer disinterred six skeletons.
August 1 - The east side is rocked as a house on Jersey St explodes.
March 3rd-4th - An overnight ice storm closed down much of Greater Rochester for a week, cutting off power to 325,000 residents and substantially damaging or destroying more than 100,000 trees. It was possibly the most expensive natural disaster in state history.
April 4th - Ice Storm, 65,000 without power for days. RIT closed for half a day.


April 29th - Gas tanker overturns and explodes near the corner of West Ridge Road and Lake Avenue.
RochesterSubway.com is set up, "to help spark public dialogue around how we can better connect the neighborhoods of Rochester NY, surrounding communities, and their cultural offerings." The website documents the history of Rochester and promotes activism and social media-based discussion on how to bring Rochester into better times.
1Wikipedia
2NOTE: Google Books Scan of book Published by W. in Alling in 1838 provides multiple references
---
See
Wikipedia or info Needed [http://www.geocities.com/powerofz7/NEWTLINE.HTML Rochester Timeline] for more reading.