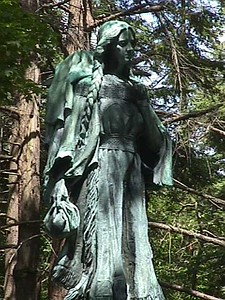 From Tom and Nikki Wedding Pages
Birth name
Aliases
Mary Jemison
Corn Tassel
"little woman of great courage."
"White Woman of the Genesee"
Birth date
Birth place
Fall 1743
Aboard ship from Ireland to America
Date of death
Place of death
September 19, 1833
Buffalo Creek Reservation
Known for
Frontierswoman and adopted Seneca Indian
Occupation(s)
Mother and negotiator for Seneca Tribe
Wikepedia
Mary Jemison
Mary Jemison is an historic figure in the Genesee Valley Region. She was captured by the Seneca in 1758, lived among, them and was adopted by the Seneca tribe thereafter.
"She was initially buried on the Buffalo Creek Reservation, but in 1874 was reinterred at William Pryor Letchworth's Glen Iris Estate (now Letchworth State Park in present day Castile, New York. A bronze statue of Mary, created in 1910, marks her grave." 1
There was once a Mary Jemison tour boat, but it was retired in 2014.
Notes and References
Comments:
Note: You must be logged in to add comments