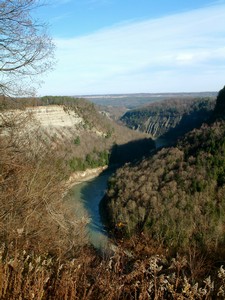 Grand Canyon of the East
Grand Canyon of the east! by DanDangler
Letchworth State Park is a state park, about an hour and a half south of Rochester, NY via I-390 , near the town of Mount Morris. It is an absurdly gorgeous park featuring several massive waterfalls spread over 14,350-acres and 70 miles of hiking trails. It is part of the Genesee Gorge, also known as the "Grand Canyon of the East". The well maintained grounds echo the passion for preservation of the depression era Civilian Conservation Corps who are largely responsible for shaping the park's appearance as it still stands today. The park is great for outdoors living with multiple campsites and picnic areas.
Trespassing on the Iron 'Spider' Bridge that crosses the gorge above the falls is illegal and highly tempting for the spectacular view it is rumored to afford. Norfolk Southern Railroad has announced that the 136-year-old bridge is going to be torn down and replaced by a modern arch bridge.
Awards
Letchworth was voted "Best Natural Feature" and "Best Place to Propose" in City newspaper's "Best of Rochester" awards in 2010.1
Letchworth was voted "Best Hiking Spot" in City Newspaper's 'Best Of' Awards in 2008 and 2009, and "Best Regional Campground" in 2009.23
In 2015 Letchworth park was voted the #1 Best State Park by USA Today's 10 Best Reader's Choice
In winter of 2015, Letchworth park also received national attention and was featured on the Today Show, due to an extremely cold winter causing one of the park's fountains to freeze over in the shape of a giant ice volcano. Visitors traveled from all over the state to take their picture with the "ice volcano."
Notes and References

Survey. Has lots of maps and photos.

See Also

Comments:
Note: You must be logged in to add comments
---
2006-01-28 18:57:56 Hiking along the East side of the gorge offers an escape from the more 'touristy' West side of the park. A good loop hike is to start at the lower falls from the West bank, cross the river at the stone bridge, hike up along the East bank to the railroad tressle (see above), cross the bridge, and back down the West bank. It affords views of the lower, middle, and upper falls that the average park goer does not see. Again, crossing the railroad bridge is at your own risk. —MikeThomas