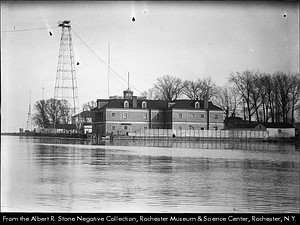 The Summerville Armory of the naval militia, located in Irondequoit. c. 1921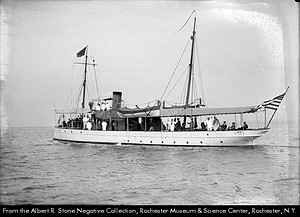 The gunboat Sandoval of Rochester's naval militia. c. 1916 The Naval Militia was a New York State naval military organization with a division in Rochester. The
Naval Militia was later replaced by the US Navy Reserve.
In 1893, on a trip to San Fransisco, Rochester's Naval Militia was criticized for having little to no experience at sea, and for being "landsmen in the strictest interpretation of the word." 1
The gunship
USS Sandoval was one of the ships used by the Naval Militia. It was built in Scotland for the Spanish Navy, and was launched September 20, 1895. It was later captured on July 17, 1898 by the US Navy at Guantanamo Bay. It was loaned to the New York State Naval Militia on November 16, 1906, and was used by Rochester's division.