Lagoner Website Photo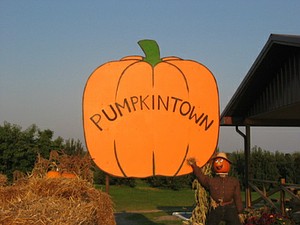 PUMPKIN TOWN opened early Sep, 2008
Location
6895 Lake Avenue, Williamson, NY 14589
Hours (as of July 2008)
Summer Market Hours
Monday-Saturday: 9:00AM to 6:00PM
Sunday: 10:00AM to 5:00PM
Phone
315 589 4899
Accessible
Yes
E-mail
<lagonerfarms AT verizon DOT net>
Website
http://www.LagonerFarms.com
Lagoner Farms is an Wayne County business convenient to the east side. The Williamsville location includes a Farm Market, gifts, floral shop, bakery, snack bar with Perry's Ice Cream, outside eating area and a playground for the kids. Seasonal offerings include flowers and plants, hayrides, rides for kids, pick-your-own blueberries, etc. See the website for more details.
"For close to 100 years, the Lagoner family has grown strawberries, blueberries, peaches, nectarines, tomatoes, and peppers. This 3rd generation farm has been our partner for the past 25 years." 1
Lagoner is also known to have participated in the Brighton Farmers Market.
References

Comments:
Note: You must be logged in to add comments
---
2009-07-23 18:19:26 Have been taking the grandchildren for lunch, snacks, and fun in the playground area as well as blueberry picking for several years. The boys love the shovel diggers in the big "sandbox". Discovered this year that they had stopped serving sandwiches in the snack bar, only ice cream, snacks and home-made fudge !!! Also they added a pottery making area and sell pottery made by a family memeber.
Recommend as a nice stop with the kids on the way to Pultneyville, Sodus Bay, etc. —BradMandell