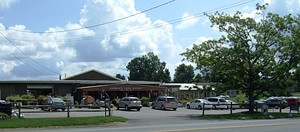 Photo Aug 2008, BradMandell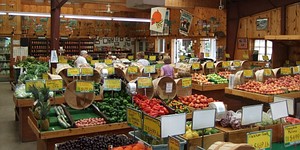 Photo Aug 2008, BradMandell
Bauman's Farm Market, sometimes also known as "... & Greenhouses" or "... & Christmas Tree Farm" is a farmer's market located on Five Mile Line Road in Webster, NY. Bauman's is widely known in eastern Monroe County as having the most greenhouses full of flowers in the springtime. Bauman's is a local supplier to Wegmans. 1
In the summer Bauman's offers pick-your-own strawberries and peas. Strawberry picking generally starts in mid-June and lasts about 4 weeks. The pick-your-own hours are from 7:00AM to 1:00PM (as of Summer 2012). The cost is $2.50 per quart.
Pick-your-own peas are $1.65 per pound.
In the fall Bauman's provides a fall special such as:
35-ft tall cornstalk teepee, straw maize, miniature goats, Loppy the rabbit, and watch you don't step on the free-range red chickens. Mr. Magic performs every Saturday and Sunday in October from 12-6. They offer preschool and grade-school tours for $2/child; call for more info. 2
In the winter season they have cut-it-yourself Christmas Trees (plus pre-cut for the faint of heart).
Notes and References

Comments:
Note: You must be logged in to add comments
---
2009-11-12 22:13:35 The staff is a bunch of kids in the store so don't expect them to be able to answer questions. They do have signs posted though with advice for apple uses. They had like 12 different types of apples when I went there, all the same price. —DamianKumor