Robert Wegman is most known for his central role in helping expand the Rochester-based supermarket Wegmans as well as pioneering the one-stop shopping idea. On April 20, 2006 Mr. Wegman, age 87, passed away.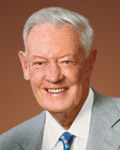 From the Wegmans website:
"Robert B. Wegman, born in the days when people bought fruits and vegetables from pushcart peddlers, became one of the nation's most influential and admired leaders in the supermarket industry. He built a successful chain of supermarkets based on the simple idea that it was essential to treat customers and employees right. As the company prospered and Wegman achieved personal success, he channeled dollars back into the community, especially in the area of education and services to youth.
A vigorous champion of new technology, Robert played a leading national role in bringing about one of the most fundamental changes in supermarket technology: development of the Universal Product Code. He also presided over a supermarket chain whose influence as a trendsetter helped improve service and selection throughout the industry. Wegman set his sights on creating a grocery chain that pushed the envelope in customer convenience.
It was, in fact, a speech that Robert Wegman wrote for a 1967 food industry conference in Thailand that became the framework for his company's operating philosophy. It began: "I am a merchant and I have, therefore, my own philosophy about merchandising. That is: To do something that no one else is doing, and to be able to offer the customer a choice she doesn't have at the moment." Some 39 years later, Wegmans employees often refer to the "I am a merchant" speech.1
Born to the Business

One might say that Robert Wegman began life in a grocery store. He was born in 1918 in his grandparents' home in Rochester, NY, where his dad's mother had operated a store from the front of her home. In any case, young Robert grew up among people in the retail food business. "My uncle Jack was what was known in those days as a huckster," Wegman once recalled in an interview. "He'd go to the public market early each morning to purchase fruits and vegetables, and then spent the day peddling them from a wagon. My dad, Walter Wegman, got his experience working in his parents' store."
Jack and Walter Wegman went into the food business together in 1916. In 1930, the brothers opened a store in Rochester that got national attention. The 20,000-square-foot store featured a 300-seat cafeteria, refrigerated food display windows, and vaporized water spray to keep vegetables and produce fresh. "My dad, who died at an early age, was as good a merchant as there was in his time. His stores were as fine as any in the country or the world. Retailers from all over came to Rochester to see how they could emulate Wegmans."
Learning the Ropes

After the death of his father in 1936 and graduation from Aquinas Institute in 1937, Robert went to work full time in the family business and spent the next ten years learning supermarket operations. While attending Niagara University, he worked in the company's accounting office. After a three-year stint in the U.S. Marine Corps, he became a store manager in 1947 at the age of 29, and following the death of his uncle in 1950, became president of the entire company at the age of 31. "After the war, I worked in all of the various Wegmans stores while converting them to self-service. From my experience, I had countless ideas of how a food business should be run."
When he took the helm of the business, Wegman decided his goal was to build the finest supermarket chain in the land "even if that meant that Wegmans wouldn't be the fastest growing company. "I have never pursued growth for growth's sake. All we really want from our efforts are the finest food stores anywhere, operated profitably."
Pioneering Change

Over the next 56 years, Robert Wegman stuck to his goal, leading the company through an astonishing metamorphosis in his pursuit of quality. He encouraged the adoption of many of the innovations that define the contemporary grocery shopping experience. He pioneered the superstore and the concept of one-stop-shopping. By the early 90s Wegmans stores were nearly one hundred times larger than the typical 1,200 square-foot stores of the late 40s. Besides the usual baked goods, meats, dairy products and groceries, shoppers would eventually see imported cheeses, more ethnic foods, restaurant-quality prepared foods, patisseries, and in-store cafes. Grocery shopping gradually became a visit to the global village. In pushing the concept of customer convenience to unheard of levels within the industry, he added such things as a pharmacy, photo lab, video department, and child play centers to the stores.
Shoppers responded enthusiastically to Robert Wegman's vision. At the beginning of his presidency, Wegmans Food Markets had been the underdog, fighting for market share against A&P, Loblaws and Star Markets on its home turf. By the end of the 1960s, the company had become the clear hometown favorite and had begun a course of expansion beyond its hometown region that continues to this day. A 1994 front-page story in The Wall Street Journal quoted supermarket industry analyst Neil Stern saying "We consider them the best chain in the country, maybe in the world."
Elected to two terms as president of the Supermarket Institute (now the Food Marketing Institute) in 1967 and 1968, Wegman always stressed the importance of treating customers well as a fundamental principle: "A furniture store or an auto dealer may be able to mistreat a customer and get away with it," he once said, "But not us. Studies show that housewives visit our stores on an average of three times a week. We've got to be on our toes all the time or they won't be back."
Robert Wegman was named chairman of his company in 1969, and in 1976 his son, Danny, followed him as president.
Today there are 90 stores in New York, Pennsylvania, New Jersey, Virginia Maryland, and Massachusetts, and Robert Wegman and his company continue to receive accolades. "Bob Wegman is the best merchant I have ever met anywhere in the world and I've met most of them," said the late Michael O'Connor, once a consultant to Coca-Cola Company and past president of the Supermarket Institute, in a 2002 story in the Rochester Democrat and Chronicle. "He is a most remarkable man."
In 2005, Robert Wegman announced that Danny Wegman would become CEO, and Colleen Wegman, Danny's daughter, would be named president of the company. Mr. Wegman retains the title of chairman. Danny's younger daughter, Nicole Wegman, is vice president of restaurant operations.
Investing in Employees and the Community

Treating employees well was also fundamental, in Wegman's view. The result has been the company's inclusion on FORTUNE magazine's list of the "100 Best Companies to Work For" for nine consecutive years starting in 1998. In 2005, Wegmans was ranked #1 on the list. Upon hearing of the #1 ranking, Robert Wegman said, "This is the culmination of my life's work."
One of the first actions Robert took when he became president was to raise all salaries. Within a couple of years, he implemented a broad program of health care. Later, the company added a defined contribution retirement plan, a 401K plan and a scholarship program, which has given nearly $56 million in tuition assistance to 18,000 employees since it began in 1984.
In 1987, the company created the Work-Scholarship Connection, a program that has been very successful in reducing the drop-out rate among at-risk students in the Rochester City School District. More than 1,000 middle and high school students participate in the program, and each is provided a youth advocate, part-time job, and workplace mentor at Wegmans and other companies that now participate. President George Bush presented the Work-Scholarship Connection with the Grand Prize American Business Press Points of Light Award in 1991.
Robert Wegman is also a lifelong philanthropist, especially in support of Catholic education. He and his wife, Peggy, grew up attending Rochester Catholic schools. By the mid-1980s, the demographics of the city had shifted; there were more low-income families with children to educate. In 1995, the Wegmans announced a ten-year, $25 million gift that has enabled hundreds of families from the city of Rochester to choose a Catholic education for their children, regardless of their faith. The gift, at the time, was believed to be the largest ever made to Catholic elementary education in this country. Wegman has also been a strong supporter of his high school alma mater, Aquinas Institute, and in 2004 announced a $10 million gift to the school for a new fine arts center and improved athletic facilities. He contributed $5 million to St. John Fisher College in January, 2005 which the college will use for the creation of the Wegmans School of Pharmacy, and in 2006, he donated an additional $8 million which the college will use for the creation of the Wegmans School of Nursing.
In 1997, Wegmans Food Markets became the title sponsor of the Wegmans Rochester LPGA (Ladies Professional Golf Association) tournament that had been held in Rochester for several years. Proceeds from the tournament support two summer Rotary camps for disabled children, the impetus for Robert Wegman's decision to help bolster the faltering tournament.
At Play

Apart from growing his company and raising his family of four children (Gail, Joan, Danny, and Marie), Robert Wegman found time for two passions: playing golf and playing the harmonica, which he taught himself. In his prime, he was a 2 handicap and won Oak Hill Country Club's Best Ball tournament for three consecutive years during the 1950s. (Oak Hill has hosted many professional golf tournaments, including the 2003 PGA championship.) He was also a talented baseball player and was the starting pitcher for the 4th Marine Division, where he played alongside many professional athletes.
Accolades

Wegman and his company have received countless awards over the years. On March 25, 2004 in Philadelphia, Junior Achievement honored Robert Wegman as one of six 2004 laureates to their National Business Hall of Fame, which recognizes "the nation's most distinguished businessmen and women for their outstanding contributions to free enterprise and the promise of a better, stronger society." He joined George Eastman and Joseph Wilson, the only other Rochester business people to have received this honor. In accepting the award, Robert Wegman said that the most important thing in life was taught to him in elementary school by the Sisters of Mercy: Getting to heaven. "How do you get to heaven?" he asked. "Never think of yourself, always care about others."
1The Wegmans employee website is called IamaMerchant.com and gets its name from this speech.