Aspenleiter Vacuum is a vacuum repair shop in Penfield. They are a locally owned and operated business that has been around for 75+ years.
Aspenleiter sells new and used vacuums, central vacuum systems, as well as vacuum supplies such as belts, bags, and filters. They are authorized dealer and repair shop for Hoover, Meile, and others. Aspenleiter also repairs and services sewing machines. You can either bring the sewing machine to Aspenleiter or they have weekly pick-ups arranged with several local fabric stores.
Previously at 516 Monroe Avenue in the city, they moved to their current location in late 2016.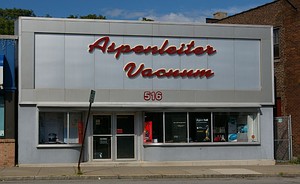 Great facade! 8-2008 (old location)
Comments:
Note: You must be logged in to add comments
---
2008-08-10 16:41:21 nice guys, they have done repairs and found accessories for us several times. —DottieHoffmann
---
2009-09-29 16:07:41 My wife and I stopped by to look for a replacement vacuum today. Scott was very helpful and knowledgeable - a great reminder why we should be saddened by the loss of so many local merchants and quality-oriented, American, consumer product manufacturers. —BradMandell
---
2011-11-03 15:15:58 They repaired my vacuum's hose attachment, which never worked. Now it works great! Job only cost $24, while a new vacuum would've easily cost twice that. Strongly recommended. —EileenF
---
2013-12-12 13:17:46 Took my sewing machine in for repair. Really quick turnaround time and at a great price. —AnnaP
---
2016-11-30 13:11:36 Nooooo, why oh why did they have to move to the middle of nowhere??? —EileenF