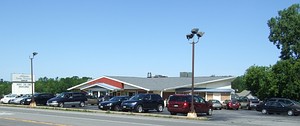 Photo July 2009, BradMandell
Location
888 Ridge Rd, Webster, NY 14580
Hours (as of April 2010 per phone call)
Daily: 6:00AM to Midnight
Phone
585 671 2149
Accessible
Yes
Alcohol
Beer
Reviews
Trip Advisor.com
MerchantCircle.com
Atlantic Family Restaurant is a family restaurant and diner in Webster serving typical American fare and breakfast. Located across from Webster Schroeder High School.
Comments:
Note: You must be logged in to add comments
---
2010-02-24 12:22:09 I will be the first to admit that the Atlantic Family Restaurant doesn't have much curb appeal. From the road it looks a little shabby and dated. Had there not been so many cars in the parking lot, I might not have noticed or paid much attention to this Webster, NY restaurant.
Inside, it is homey, but you probably won't have time to notice. A hostess or waitress will greet you shortly after you close the door behind you and whisk you to your booth or table. Before you have a chance to settle in a waitress will ask you if you want coffee. I don't drink caffeinated coffee, but I can appreciate the needs of those who need caffeine first thing in the morning. This super alert ready-to-serve service is consistent and appreciated.
If you have out of town visitors, take them to the Atlantic Family Restaurant if for no other reason than to show them the menu. Your New York City guests will be shocked that they can order a whole breakfast for the cost of a bagel or a cup of coffee in the Big Apple.
My standard restaurant breakfast (don't tell my doctor about this) is two eggs scrambled, home fries, sausage, wheat toast, and decaf coffee. The Atlantic Family Restaurant prepares these items almost flawlessly. The eggs are fluffy, not too runny and not too browned. They taste like eggs and not like yesterday's oil. The home fries are a true test of a breakfast restaurant and here they are cooked just right. The potatoes are never raw tasting, burnt, or mushy. I don't like their link sausages because they are not the sage seasoned links that I grew up eating, but I can easily see why others would enjoy them. They are large plump and meaty. Instead, I order bacon which is of good quality and cooked just right. The bacon is never brittle and never tastes like it was cooked in a deep fryer. The toast is standard restaurant toast, no worse and no better. The coffee, is good; great when you consider the price and unlimited refills.
My wife likes restaurant hotcakes and the Atlantic Family Restaurant serves what she describes as some of the best in Rochester. They nearly cover the plate and are about a quarter inch thick and always a golden brown. The maple syrup is even good.
When you look around at the clientele you will see workmen, retired couples, business people, and families. This is, indeed, a family restaurant.
When you are finished eating, your plates will be promptly removed and replaced with your check. Unless you are a cynic, you will feel grateful that you have received so much for so little and double the usual 15% tip.
When you pay your check, expect to have an unusually familiar conversation with the hostess/cashier. You may be asked about your plans for the day, the weather, or something else. Just like when you arrived, you will be treated as a regular customer who deserves respect and courtesy. I've often thought that I would go back to the Atlantic Family Restaurant just for the hospitality even if there breakfasts were one of the best in Rochester. —MaxLent

---
2010-05-23 15:40:41 I went there with my grandfather this morning.
The menu is inaccurate as my dish, 'the all a round', is listed as coming with toast and potatoes this is not the truth. They also use that awful pie filling for their 'fruit pancakes', so don't expect them to put it in the batter. My mom asked if they could put cheese in here scrambled eggs but again they refused. So don't expect to get what you want there.
The pepper on the table was tasteless probably because it's old. I had my eggs covered in the stuff till it was black when I could taste the pepper.
Service was quicker than other diners I went to, but other places have better quality food at similar prices. Try Goldenboys or Nutcracker on the same street instead of here. —DamianKumor

---
2010-05-28 11:46:35 My absolute favorite diner-type restaurant in the Rochester area. Friendly staff, prompt service, enormous menu, delicious food, and great prices. Not by any means the best Chicken French in Rochester, but definitely the best - and biggest - Chicken French dinner (THREE cutlets plus rolls, salad, and pasta or a side) you'll find for $11. —TimCrist