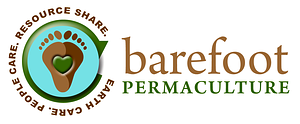 Barefoot Edible Landscape and Permaculture
Mailing Address
PO Box 18212, Rochester, NY 14618
Hours (as of February 2011)
By Appointment
Phone
585 505 6505
Wheelchair Accessible
Yes
Email
<patty AT barefootpermaculture DOT com>
Website
http://BarefootPermaculture.com
Barefoot Edible Landscape and Permaculture was RocWiki's Business Spotlight of the Month for June 2011!
Barefoot Edible Landscape and Permaculture is an edible landscaping and regenerative design firm. We integrate humans into their environment by creating regenerative, organic landscapes that are full of beauty and healthy food. Our sustainable designs increase self-sufficiency, build nutrient- and life-rich soil, restore local ecosystem health, capture carbon from the atmosphere, and strengthen community resilience. Contact us today to schedule a consultation for your home, business, farm, or workplace.
We're working to create a wide variety of learning opportunities for you. Please check our events page to see the latest offerings. Let us know if there's a class you'd like to see us offer.
And remember…Don't just sit there, plant something!
Associated with Rochester Permaculture Institute.
Comments:
Note: You must be logged in to add comments