Company Logo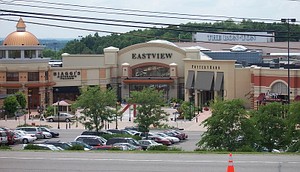 Wikimedia Commons
Former Location
818 Eastview Mall, Victor NY, 14564
Status (as of April 2018)
Closed April 8, 2018
Comments:
Note: You must be logged in to add comments
---
2007-11-17 17:13:31 I have never had a bad meal here. I really like the various breads they bring to your table. Very good for a chain!!! —DabeernFooddude
---
2008-05-06 15:59:41 Great food for a chain restaurant! Id go back, very tasteful ambiance as well. —MrRochester
---
2009-01-27 21:49:13 My first visit to Biaggi's tonight was great! Appetizer, entree & dessert were delicious and well-prepared. Service was excellent. Dave the restaurant manager even popped by our table to say hello when he heard it was our first visit. —NathanHenderson
---
2009-02-03 17:37:32 have tried this restaurant twice...horribly pretentious, horrible service and horrible food...save your money and time for a good old fashioned mom and pop establishment —CJBarnhart
---
2009-03-19 22:49:27 Every single thing I have every ordered here has been wonderful. The wait-staff is all very polite and helpful. They are willing to modify dishes without complaint to meet my husband and I's dietary restrictions. Very picky-eater friendly. Was very pleased to meet the restaurant manager at our most recent visit. —PrincessB
---
2009-07-04 15:59:58 There is one thing about a restaurant that can keep someone coming back, and it is service. Biaggi's has the best service, hands down. My wife and I visit occasionally and we always feel that we are star of a show when we walk in. On top of the incredible service, the food is outstanding. The Filet Mignon, and the Chopped Chicken Salad are my favorites. Dave the manager is fantastic, as well as the servers we have had, Melissa, Dan, Wendy, and Mike to list a few. Will be attending again soon! —RussSmith
---
2009-09-19 22:40:38 Me and a friend ate here tonight. I've always wanted to try this, but the wait is usually an hour or so. Tonight they had high-tops open in the bar, so we did that.
The entire experience was really nice and personable. They have an extensive wine list, and an impressive menu. I like how your server starts you off with bread, and makes you an olive oil/cheese/pepper mixture for dipping. The tables all have pepper, oil, and Parmesan cheese, so you can always make yourself more. We each had a drink, and shared two appetizers. We got the lobster dip, and the sausage pizza. The dip was great, and had some delicious chunks of lobster in it. The pizza was thin crust, but very light and not greasy at all. It had diced tomatoes on it, rather than sauce, which I really liked. It reminded me of how my Italian grandmother makes her pizza. Our server was very nice, and so were all the staff we ran into.
Also, a word on the prices. They're amazingly reasonable! Their entire dessert menu, be it a cannoli or bananas foster, are all the same price. I need to go back and have a full meal here.
Good food, atmosphere, and service. Will definitely be back!

---
---
2018-04-08 18:12:08 Closed April 8, 2018: https://www.democratandchronicle.com/story/local/2018/04/08/biaggis-ristorante-eastview-mall-closes/497168002/ —markjackson