Hours (as of February 2014)
By appoinment
Phone
585 354 1712
Website
Facebook
Bipolar Couture' is an independent Rochester fashion line. The owner and designer is Aqueelah Abdullah, who creates clothing from scratch and can also do alterations and embroidery. They also offers custom t-shirts using the Direct to Garment method wherein the ink is embedded in the fabric.
The Bipolar Couture' shop had its grand opening on January 4, 2013 at 1157 East Main. They have since become a home-based business.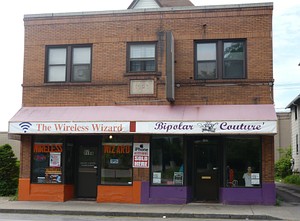 Original location on East Main.
Comments:
Note: You must be logged in to add comments