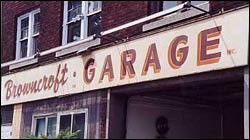 Browncroft Garage has been a Rochester auto repair shop of note since 1927. Formally established in 1930, it sells used vehicles and provides car repair for vehicles of every make and model, but specializes in Volvo, Cadillac, Honda and Toyota repair, and particularly in repairing maintaining Hybrid vehicles.
Among Browncroft personnel are not only mechanics certified by the ACDC in Hybrid Service Technology but also a General Motors Cadillac Gold and Silver Awards for 2000.
They are located in Culver-Winton-Main.
Comments:
Note: You must be logged in to add comments
---
2010-02-05 15:09:34 Eric, Glen, Norman, and the other mechanics do terrific work. I feel fortunate to have found a place where I never have to worry about the honesty issue. —RobertReid
---
2010-02-24 17:02:12 Just had our 2nd vehicle in for repairs as we were so very satisfied with the quility of work AND the price from our first car a month ago.Both had some major work done and the Honesty of these folks was great!!! The price was far less then any other local shops would have charged. I will definatly be going back for any future repairs. Thank You Guys So Much For Excellent,Honest and Affordable repairs !! —jeffbowen
---
2010-07-10 22:10:50 I highly recommend Browncroft Garage as a trusted business for selling quality used cars and for repairs. The car I bought there did not need any repairs for the first four years, and then it needed only routine maintenance. It is easy to get an appointment and the workmanship has been of the highest quality. —JanPejovic
---
2010-07-20 15:38:55 Excellent service. Have been a customer of The Browncroft Garage since 1973. —vrgaratea
---
2010-08-10 09:18:29 Browncroft Garage occasionally sells used cars purchased at auction, too. It may seem foolhardy to purchase a used car from the same people that make money from repairing it, but this is one of the few garages I've encountered that is trustworthy enough. —JustinSherrill
---
2010-11-12 12:30:15 I would recommend Browncroft Garage to friends and family. I recently had a multiple of issues with my van, and had taken it to several garages. Browncroft was the most knowledgeable , honest and affordable place I have been to. Which is really hard to find. Eric was very nice and worked with me.I will definitely keep them as my place to go with vehicle issues. —LynetteWibbe
---
2011-03-24 22:32:45 These guys do good work, are willing to explain (and show you) what things need fixing, and are very nice to work with. I highly reccomend them, for both reliable service work as well as used car shopping. They're even willing to help explain things so you can try to fix it yourself (and when it's reasonable for you to try), and then just as willing to help clean up the mess if you can't get it right. It's a nice feeling to know you've got them to help when needed. —JimCarter
---
2011-08-29 09:53:21 I have an older Cadillac I had some trouble with both my engine and air conditioning. I took the 99 Cady to Browncroft Garage to get an idea of repair costs and repair options. Eric is the owner of this establishment. Eric was recommended by Dan McCarthy. He told me my engine needed a tune up and the mounts were a little shaky, (which they were). He told me that my A/C had a leak. He told me to fix it would be an extensive repair. In explaining the A/C problem He showed me a diagram of the compressor, radiator and it's correct operation. I didn't fix the A/c but the car runs 100 % better and I would recommend Browncroft Garage. —DavidRivers
---
2011-10-11 10:51:32 I have been going to Browncroft for quite some time. I trust Eric, Glen and Norm who do fantastic work!! Both my husband and I totally trust them and their work. They stand behind all their work and are fair and reasonable. I would never take my cars anywhere else!! Lynn M. Abaied —LynnAbaied
---
2011-10-17 22:29:19 Don't let the sparcely furnished and sometimes unattended front office of this auto service business scare you. Browncroft Garage delivers. They saved me almost $900 when they called the bluff of an otherwise presumably reputable, leading dealership service department in the area who'd recommended a 10-hour fix job. Instead, Browncroft did it in two. Honest, quick service at an affordable price. I'm switching to Browncroft Garage. —JessSadick
---
2012-09-13 15:35:27 I would like to take this time to tell anyone that if you are looking for a honest garage you should take it here, Eric and his staff were very honest. I had my car towed there from pepboys which there price to fix my car was over a grand. Eric and his team saved me 800.00 dollars, thanks for the great work. Next time I need work done I will bring it to them. —DianeSnyder
---
2012-11-13 09:35:42 Browncroft Garage saved my vacation! I had a bizarre electrical malfunction in my 2000 Mercedes ML320 and Browncroft was able to diagnose it and get me back on the road in a day. The key word is experience. They had seen this before and knew what to do without doing time-consuming research. I am sending all my Rochester friends there. —BobAnnechiarico
---
2013-06-08 14:19:51 I have been driving automobiles and looking for honest car repair mechanics for 40 yrs... and, thankfully, on advice from a friend, we have finally found Eric Koesterich at Browncroft Garage. He is a man of integrity and knows how to keep cars going (my 1998 Toyota RAV 4!) and in top condition. His prices are very reasonable and even more importantly, I know I can trust him to be meticulous in his work and not take advantage of my ignorance when it comes to my car. My husband and I both give him the highest recommendation. If you are in need of conscientious and honest auto work, Eric is your man. —susanhodes
---
2013-09-18 18:02:41 At 3:30 PM my dash lights start flashing. I call Eric at Browncroft Garage. My sister and mother have used him for years. He says bring it on over. I head right over. He checks it - I need an alternator. He gets me a price. I think I have to leave car over night - but no - he ordered the part, it arrived and they do the job right then. I was back on the road before 5:00 PM. THIS IS UNBELIEVABLY GOOD SERVICE. THIS IS UNHEARD OF SERVICE. WHO DOES THIS??? Eric and the guys at Browncroft Garage - that's who. And if that does not convince you to go to them, I double checked with my usual service team and they would have charged me 30% MORE. We are very lucky to have such a great service in our neighborhood. I hope they stay for another 75 years! —MArlidge