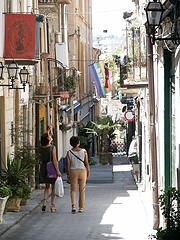 Caltanissetta, Italy became a sister city of Rochester in 1965. Today the city of Caltanissetta, capital of the
Province of Caltanissetta, and its surrounding towns are comprised of a great mixture of many cultures, traditions, and folklore that have influenced its development through the centuries.
Among its artistic treasures are the Siculo-Grecian1 archeological centers of Sabucina2 and Gibil-Gabib, the Mineralogy and Sulphur Museum, the Palazzo Moncada, and the Santo Spirito Abbey built by Count Roger in 1151.3
Caltanissetta is today the home of the award winning nougat-candy factory, Torronifici Geraci; the Salvatore Amorelli heather briar pipes, which have become fine collection pieces; and the industry of Amaro Averna, a fine liqueur.
Population 61,000


Loaced in central Sicily


Founded in 800 B.C.


Owned (as is typical in Sicily) by several civilizations since it's inception.
Notes and References

Comments:
Note: You must be logged in to add comments