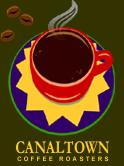 CanalTown Coffee Roasters is a coffee shop in the city on East Avenue, in the strip mall across from Wegmans in Culver/University/East. It is owned by "Master Roaster" Peter Pelletier, who has over 20 years of experience in roasting and buying. Canaltown was created when Peter moved back home to Rochester from North Carolina where he worked at his father-in-law's coffee shop. His love for importing and roasting coffee led him to create Canaltown. Canaltown prides itself on importing and selling high quality roasted coffee.
Canaltown offers several unique categories of roasted coffee to its customers both in-store and on their website. These unique categories include, African, Blended, Central and South America, Dark Roast, Decaf, Espresso, Flavored, Organic, and South Pacific. Most of Canaltown's roasted coffee beans can be purchased online at the Canaltown website.
In addition to roasted coffee, sandwiches are also a popular item on the menu at Canaltown. Also, frequent open mic events held on-site help make Canaltown a relaxing environment for music entertainment and enjoying a cup of coffee.
Comments:
Note: You must be logged in to add comments
---
2007-05-27 19:57:15 I'm not a coffee drinker myself but every time I host overnight guests I'll order an airpot of coffee from them and the coffee drinkers seem very happy with it. And since it's in an airpot it stays scalding hot for hours. —TravisOwens
---
2007-06-27 11:26:47 good coffee and a good place to meet [East Ave. location] Baked goods are so-so. —MrPhil
---
2011-05-28 13:57:39 I love the coffee, have been buying it (whole bean) for years, and their East Avenue location is very charming, unpretentious, and quiet. The people there are very friendly, professional, and pleasant. Once you're inside, you forget all about the yucky strip mall in which it is. This is my favorite coffee shop in town! —carlossg
---
2011-09-05 13:35:33 I went to the East Ave location today and found it very pleasant. The girl at the counter was very friendly and I had an excellent fruit parfait. As another comment noted, it is in a strip mall (albeit a small, quiet one) but that doesn't detract from the atmosphere, which is unpretentious and small diner-like. —EileenF
---
2011-11-21 16:56:04 This is a review I originally posed on Yelp, about the East Ave. location:
The only problem with this place (aside from the lousy decor and bad location, that is...), is that they over-roast their coffee, which makes it all taste bitter. Most Rochesterians can't tell the difference (or maybe they think that bitter coffee is trendier?), but I sure can tell the difference.

---
2013-01-16 09:22:01 I think their coffee is great! Especially their java estate. Their staff is super friendly too! makes me go thee more often than the other coffee shop close to my house that is definitely a bit more pretentious. —jcs3636