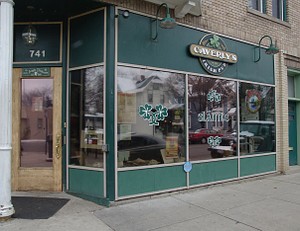 Caverly's Pub on South Ave, 12-2010
Caverly's Irish Pub is an Irish-themed bar on South Avenue in the South Wedge. There are three dart machines. (Two accept dollars and are the newer variety, the other takes only quarters and is the older style.)
Comments:
Note: You must be logged in to add comments
---
2007-05-17 14:55:13 This looks like a new place. Strange layout for a bar though. When I went it was pretty hoppingthough. —MetalFrost
---
2007-05-17 17:33:45 It's been there for over a year, MetalFrost. Nice spot. —NeilBardhan
---
2007-07-19 22:49:01 I've only been in here once and the night I went in (although it was dinner time) it was not very crowded. However, I was impressed by the cleanliness of it and I liked the back pool room. My boyfriend enjoyed the different beers on tap. —SaraChristine
---
2008-06-08 10:39:24 Went here last night and this place is just fantastic. The staff was more than friendly, the crowd was pleasant, and the jukebox is great. Lots of irish-y stuff in the jukebox, but also some classic jams, Stones, Elton John, and surprisingly a few Led Zeppelin albums, who somehow seem to never show up in jukeboxes.
There are beer-on-tap specials every night of the week as well. —CalebKelsey

---
2008-06-09 13:08:01 To add to my previous comment, I returned a number of times and always had a good time. Friendly people and a good looking bar. —SaraChristine
---
2008-06-11 11:23:42 Good, VERY low key bar. They always keep it clean and always have the staple Irish-American beers stocked. Always run into interesting characters at this bar, I just chalk it up to the eclectic neighborhood. Never had a bad time. —MrRochester
---
2008-07-13 11:19:47 Went there for the first time last night after the Phil Lesh concert. Though there were several cute girls here, all seemed to be with boyfriends. The decor is cool, sort of low budget but comfortable for a beer drinking bar. No food but they are friendly with local food places, so you can bring in what you take out from there. Pool table in back, I saw one electronic dart board. Good selection of draft beers, obviously with an Irish slant. I second Steve's "low key" description, in a good way. —BadFish
---
2009-08-14 12:55:28 A gem of a bar. The jukebox (classic disk instead of computerized) is loaded for bear and they often feature fun performers on stage. I've walked in on both Johnny Cash and Johnny Rivers covers. Many of my best nights have included intersection with this place— good brew, ample dartboards, and outdoor seating. —JeffreyL
---
2014-08-20 12:45:05 fantastic bar. great bartenders. classic Irish beer on tap. Definitely one of my favorites. —FoggyDudes