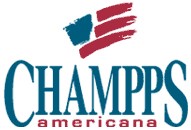 Company Logo
Location
819 Eastview Mall, Victor NY, 14564
Hours (as of January 2009)
Monday - Thursday: 11:00AM to Midnight
Friday & Saturday: 11:00AM to 1:00AM
Sunday: 10:00AM to 11:00PM
Phone
585 223 3310
Alcohol
Yes
Website
http://www.Champps.com/
Wikipedia
Champps Americana
Champps is a chain restaurant offering American style cuisine similar to TGI Friday's (before their big switch to burgers) but with more of an upper class feeling without upper class prices. Located in the Eastview Mall in Victor. Lots of TVs and a 12' big screen over the bar provide many sporting events at the same time.
Comments:
Note: You must be logged in to add comments
See Archive Page for comments prior to 2008.
---
2008-05-16 13:09:34 Its a sports bar, food was ok, worth one try. How can you screw up fried stuff? —MrRochester
---
2009-03-12 13:39:30 Came here during normal dinner hours in the middle of the week expecting more of a sports fan/professional crowd. Wrong! It was like Babies R Us, the dining area was like a sea of families and strollers. They were even playing a Disney movie on one of the large screens instead of the Sabres game. Food is overpriced - $10 for a sandwich and chips? It's a $1 extra just for fries. Came here for a bday and half of our party had their dinners returned because the food was cold or overcooked. On the plus side, service was very accommodating and comped the returned meals and even gave us a complimentary birthday dessert. Great service must be the only reason why this place is still in business. —JaimeTe
---
2009-04-11 22:43:50 Quick easy bar food but beware, I had their club sandwich and as I was eating it I found my chin and fingers glistening. They must "toast" their sammies on the griddle. I'm not a nutrition nut by any means but if you check their website for nutrition information, it's a little disturbing. I know a club sandwich isn't health food but 1200 calories and 48 grams of fat for a sandwich is just wrong. Even most of their salads are butt-enlarging so dine there cautiously. —karlos
---
2010-12-27 01:45:03 Fun atmosphere, huge bar with plenty of TVs. They do some fun promotions. Food is okay, but ridiculously overpriced. Beer specials can be pretty cheap, though. —DE