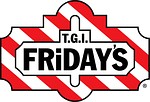 Company Logo ®
Address
125 White Spruce Blvd, Rochester NY, 14623
Hours (as of January 2023
Monday - Sunday: 11:00AM to 12:30AM
Phone
585 424 6700
Accessible
Yes
Alcohol
Yes
Website
http://www.TGIFridays.com/
Wikipedia
T.G.I Friday's
TGI Friday's is an international chain restaurant, across from MCC in Henrietta. Greece Ridge Mall location closed 2023.
TGI Fridays gets its name from the acronym TGIF, "Thank God Its Friday".
Comments:
Note: You must be logged in to add comments
See Archive Page for comments prior to 2008.
---
2008-02-29 03:17:47 food isnt great but the espresso martini is great! —EllaBeeney
---
2008-05-16 13:35:40 Food is terrible, but of all the terrible Diner chains (Chili's, Ruby Tuesday, Max and Ermas, etc) TGIF's is the best. How do you screw up fried stuff? —MrRochester
---
2008-05-25 10:28:43 I heard that Friday's is building a new restaurant in Henrietta, next to the Red Robin. Does anyone have more details on this? —GirlRoc
---
2009-01-30 20:31:40 This place sucks, not only were they blasting very loud headbanging music, their food is terrible. SALT SALT SALT. —deedeeducko
---
2009-06-12 12:40:54 Went to the Greece Ridge Mall location last night, and had an overall pleasant experience. I had a steak with Jack Daniel's BBQ sauce. Let me tell you that sauce is AMAZING. The steak wasn't anything special, but the sauce made all the difference. My wife had the sizzling chicken and cheese and enjoyed it.
Our server was nice, but was trying really hard to get us to buy appetizers and dessert. I'm guessing management is pushing the servers to get people to order more than just entrees, which is all my wife and I ordered.
I prefer Applebee's to TGI Friday's, though I may have to return just for that Jack Daniels BBQ sauce... —AlexanderGartley

---
2012-12-27 15:46:30 Wonderful food! Always awesome! —ClarissaBrown