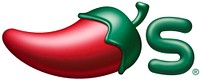 Company Logo
Locations
Phone
960 Elmridge Center Drive, Greece NY, 14626
585 227 2750
7491 Victor/Pittsford Road, Victor NY, 14564
585 924 0220
Hours (as of December 2006)
Sunday - Thursday: 11:00AM to 11:00PM
Friday & Saturday: 11:00AM to 12:00AM
Wheelchair Accessible
Yes
Alcohol
Yes
Website
http://www.chilis.com
Wikipedia
Chili's
Chili's is a national chain bar and grill, with locations in Greece and Victor.
Comments:
Note: You must be logged in to add comments
See Archive Page for comments prior to 2008.
---
2008-05-16 13:13:01 Terrible, I dont know how they stay open. —MrRochester
---
2008-07-07 23:41:00 Visited Chili's in Greece this evening for the first time. I had been to a Chili's once before in Florida, and had a great experience. This restaurant had slightly less charm than the one I had visited down south. The first thing that I noticed is that the Ketchup bottle was disgusting. The top of it was covered in dust and grime, white goo was on one side of it, and the cap had old dried nasty ketchup in every crack. I requested a new bottle, and it returned a little later much cleaner.
I had the Philly Steak which was pretty good for a Philly Steak. The fries were seasoned a bit much, and tasted excessively salty. I am told that the chicken strips (whatever they call it) were marginally okay.
In a nutshell: The service was okay, the restaurant was not clean at all (the bathroom was disgusting), and the food was okay, but nothing special. Would I return? Possibly—or possibly not. —LincolnComet

---
2010-02-02 17:34:54 The Henrietta Supervisor has announced that a new Chili's is being built on the corner of Marketplace Drive and Jefferson Road in Henrietta-expected to open in the spring. The announcement was part of the 2010 State of the Town Address:
http://www.henrietta.org/boards/townboard/2010sot.html —PeteB
---
2010-03-02 11:17:05 just opened on Jefferson in Henrietta. —NewtonNola
---
2010-11-17 17:37:52 I just don't understand the appeal of restaurants like Chili's. Can someone explain it? I mean, we have such great local options, why would you go here? —BatGuano
---
2011-04-13 21:23:49 Oh lord, I once was a frequent at chili's but after this horrifying experience I will NEVER go back. I walked in with my 5yr old and stood there waiting for abt 7 or 8 minutes while the hostess and waitress chit chatted finally getting seated was even less appealing although the restaurant was near empty they seated us in a booth next to the kitchen when I asked to be moved the snotty hostess said she had to seat me here because this was the waitress section next in line for a table why I didn't walk out then and there I regret. It took almost 15min to just get drinks and to a 5yr old that is like hrs. The food I ordered was (chicken tacos) was not tasty and not as I specified in ordering it, my daughters mac n cheese looked as if it had been sitting under a hot lamp for hours all hard on top and was barely edible, I sent it back and had to wait 30 min for a new one, when I asked for the manager and said I didn't feel I should have to pay for the kids meal I was told they would offer me a free dessert! Really come on they should have just credited the meal and maybe I would have been so upset, not to mention the tables were filthy, and a dirty rag they use to clean the tables lay on the table across from us the whole time we ate (1.5)hrs we ended up sitting there! The greece chili's was apauling from the hostess to the waitstaff to the managment to the food were the worst I have experinced, the place should be shut down! —brendacarol1
---
2011-06-10 01:56:57 Went there last night just to grab something quick and decent...Deb and I had a Margaurita...pricy, but very good so no prob there...ordered the triple appetizer (wings, southwest eggrolls and potato skins)...waited 40 minutes and was told the cook was working with frozen wings and burned the skins...wing were raw inside...manager comped the app platter and gave Deb a couple 5$ coupons..I got half a rack of ribs to go for the BB game and Deb had a Quesadilla Salad that she said was delish...might go back to use the coupons, but, really... —MikeandDeb
---
2011-06-16 12:23:59 I've always had pretty good experiences at the greece chili's, yeah the food is your typical chain stuff, but in greece that's what the majority of restaurants are. I've always found the place to be clean, yes the service varies, but again it's a typical chain, you're not going to get the five star treatment. I know what I'm getting and I like the selection, it's a nice change from just burgers and cheesy pasta dishes (though they have those too). —carolturo