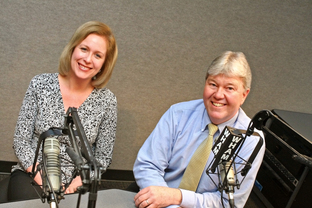 Pictured left to right are Beth Adams and Chet Walker
Chet Walker is a well known, longtime Radio Host who hosted the WHAM 1180 Morning Show (5:00am-9:00am) from 1985 to 2014 with Beth Adams Pitoniak. In 2011 Beth Adams was released by WHAM and Chet Walker was released by Clear Channel in 2014. In 2020, Adams is on the air at WXXI.
Walker was also the radio commercial voice for Rowe Photo.