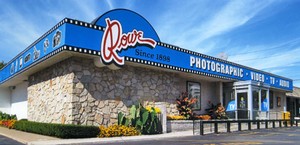 Mt. Hope location
Locations
1737 Mt. Hope Ave, Rochester NY, 14620
2590 W Ridge Rd, Rochester, NY 14626
in Buckman's Plaza
1175 Ridge Rd, Webster, NY 14580
Hours (as of March 2008)
Monday -Wednesday: 10:00AM to 6:00PM
Thursday: 10:00AM to 7:00PM
Friday & Saturday 10:00AM to 5:00PM
Phones
585 442 8230 (Mt. Hope Ave)
585 227 2790 (W Ridge Rd)
585 872 9110 (Ridge Rd)
Accessible
Yes
E-mail
<rowefoto AT rochester DOT rr DOT com>
Website
http://www.RowePhoto.com/
Facebook
Rowe Photo is a local electronics chain founded in 1898, with showrooms in Rochester, Greece and Webster. They sell new and used, professional and amateur audio, visual, photographic and home theater equipment. They also do photo restoration and digital transfers for those rapidly deteriorating but cherished 8mm home movies.
The Rochester location is their primary showroom. Unfortunately, the "store" part of the store is very cramped. The showroom is rather nice though.
Well known Radio Host Chet Walker is the commercial pitchman for Rowe.
Comments:
Note: You must be logged in to add comments
---
2009-07-29 08:13:18 Great place to pick up top of the line electronics. They back everything they sell 100%, and they also price match Best Buy or any other physical store. I will be a lifetime shopper here. —ChrisReynolds
---
2012-07-22 11:58:44 Never had a good experience at Rowe - the salespeople don't know much about their high end gear so it is really hard to actually buy anything. They know a lot about their flatscreen TV's and cameras, though. —birvine