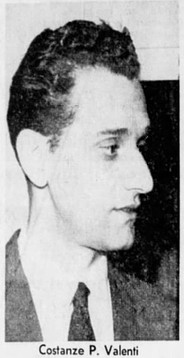 Constenze Peter "Stanley" Valenti (February 8, 1926 - February 23, 2001) was an American organized crime figure and the leader of the Rochester Crime Family throughout most of the 1950s. A lifelong member of La Cosa Nostra, Constenze, better known as "Stanley" to his associates, was the younger brother of famed Rochester don Frank Valenti. Despite his youth, Stanley actually preceded his older brother as the top crime boss of the city as Frank was a well earning capo in Pittsburgh, Pennsylvania at the time.
Stanley Valenti was raised in the City of Rochester in a working class Italian-American neighborhood and eventually rose the ranks to become one of the most well respected mobsters in the city at a time when rackets were controlled by the Buffalo Crime Family. Valenti would go on to marry the daughter of Pittsburgh capo Antonio Ripepi, establishing even stronger familial ties to the underworld, which propelled him to take a leadership position. Due to the secretive code of omerta, it is not entirely known when exactly this took place, but it is estimated that Valenti became the boss of the Rochester branch of the Buffalo Crime Family sometime between 1947 and 1953. As the man overseeing the city, Stanley Valenti controlled gambling, prostitution and extortion, generating millions in revenue for the mafia and reporting directly to Stefano Magaddino in Buffalo. Stanley's success earned him an invite to the infamous 1957 Apalachin Conference in which dozens of mafioso were arrested and indicted, blowing the lid on La Cosa Nostra wide open. Both Stanley and his brother Frank were arrested at this meeting. Following the raid, the FBI began to heavily monitor suspected crime figures and in 1963, Joseph Valachi, a mobster himself, testified before the United States Senate on the existence and state of the American Mafia. During his testimony, Valachi identified by name Frank Valenti and Constanze "Stanley" Valenti, two Rochester brothers who were arrested at the Apalachin Meeting, as made men and alleged that the Buffalo Crime Family controlled most of Upstate New York, including Rochester, Syracuse and Utica. When Stanley Valenti was arrested in 1957, he refused to cooperate with authorities and was sentenced to 16 months in prison along with his brother Frank Valenti who was initially briefly jailed and subsequently returned to his native Pittsburgh to work for LaRocca.
In the absence of a leader, another longtime crime figure with the backing of Buffalo seized control. Jacomino Russolesi, a Buffalo capo better known as Jake Russo, became boss of Magaddino's Rochester crime branch in 1958, taking over Stanley Valenti's operations. This would not last long, however, as Frank Valenti would return to Rochester in 1964, during a simultaneous disappearance of Russo. The elder Valenti would soon seize control over the city and begin consolidating power, eventually splitting the city from Buffalo's control and creating a new independent crime family.
Stanley Valenti for the most part retired after his brother became boss. He remained in the area, moving to an isolated area of Victor and would often spend time at the Public Market, working the family's produce business. He would briefly be thrust back into the spotlight in 1977 when he was subpoenaed to testify before a grand jury investigating organized crime in the wake of the violent A/B Team Wars, but would be dismissed when he was unable to appear because he was recovering from open heart surgery.
Constenze Valenti died in Victor, NY at the age of 75 in 2001.