Frank Joseph Valenti (September 14, 1911 - September 20, 2008) was an American organized crime figure who became the boss of Rochester's Mafia from 1964 to 1972. Originally from Pittsburgh, Pennsylvania, Valenti spent most of his life involved in crime, gaining a reputation early on as a hooligan, he would rise through the ranks of the Italian-American mafia and eventually become one of the most powerful leaders of La Cosa Nostra in the United States.
Biography
Early Life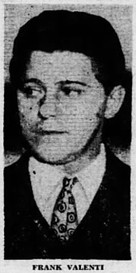 Valenti as a Pittsburgh soldier, pictured circa 1946.
Born in Pittsburgh, Pennsylvania to Italian-immigrant parents, Frank Valenti had several brothers, sisters and cousins throughout western and central Pennsylvania and western New York. Valenti would begin his criminal career during the early days of prohibition committing petty crimes such as vandalism, theft and running arrands for the bootleggers of his hometown. As early as 1933, he had several arrests under his belt for extortion, counterfeiting and bootlegging. By the 1940s, Valenti was a well-earning member of John LaRocca's Pittsburgh Crime Family based out of the city's East Liberty neighborhood, as well as a made member of
Antonio Ripepi's crew. Ripepi served as a mentor to Valenti and would play that role throughout his entire career in the underworld. Referred to by Pittsburgh newspapers as a "dapper racketeer" who owned several nightclubs and "Spaghetti Village" restaurants in Pittsburgh, Valenti's documented history with the LaRocca Family is extensive. During one incident in 1946, he was arrested by the Pittsburgh Police Department on suspicion of accessory to murder. While being held, he was beaten for several hours by Patrolman Michael O'Donnell and two other police officers, who broke his nose and caused severe bruising. Police initially claimed that Valenti "fell down in his cell" but later refused to comment when asked by reporters. Other incidents during the 1940s include conspiracy to avoid conscription, tax evasion and extortion, all of which he was aquitted of in court.
In 1952, the Pittsburgh Post-Gazette reported that "Frankie" Valenti's home was raided by police folllowing the testimony of his mistress Carla Ferrari, who reported seeing him with a gun and discussing the murder of two men at the Chelsea Club in Pittsburgh, a gambling parlor he operated at the time. Other witnesses placed him in the getaway vehicle. Valenti was never convicted of any crime related to the double murder.
Rise To Power
During the mid-1950s, Frank Valenti continued to work as a member of the LaRocca Crime Family in Pittsburgh, but also began to gain ties to the Bonanno Family of New York City. Also during this time, his younger brother Constenze "Stanley" Valenti married the daughter of Frank Valenti's capo and mentor, Antonio Ripepi, enabling the Valenti's to secure further power in the underworld, as the younger Valenti took over operations in Rochester. With these heavy ties and respect among mafia leaders, the two brothers would be invited on November 14, 1957 to attend the Apalachin Meeting at the home of Bufalino Crime Family boss "Joe The Barber" Barbara. This meeting was busted by law enforcement. In the aftermath of the conference, Valenti was interviewed by the Democrat & Chronicle denouncing the validity of the stories of his past printed in Pittsburgh newspapers and claimed he has "never heard of" the mafia. Refusing to cooperate with police, Valenti's brother Stanley was arrested and sent to jail, then succeeded by Jake Russo as the leader of Rochester's underworld. Frank Valenti attempted to intervene and take over, but was also arrested, this time under violation of federal election laws, and sentenced to prison until 1961.
Upon his release from prison, Frank Valenti would return to Pittsburgh and rise to the rank of capo in the Pittsburgh Crime Family, gaining more power than ever before, where he would continue to thrive on gambling, extortion, loansharking and prostitution. Valenti was given a $50,000 nest egg to pick up where he left off in Steel City. During this period, he devised a plan to regain control of Rochester's mob by ousting Jake Russo, who replaced his brother several years earlier. With the support of John LaRocca, Michael Genovese and his mentor Antonio Repepi, Valenti returned to Rochester in 1964 accompanied by his brother Stanley and Pittsburgh mobster Angelo Vaccaro. Shortly after his return, Valenti threw two major parties at Downtown Rochester mafia restaurants, declaring himself "the man to see in Rochester." Notably not in attendance was Jake Russo, who had disappeared several days prior never to be heard from again. His body was never recovered and Frank Valenti was now the undisputed crime boss in the city.
Boss of Rochester
Frank Valenti at the height of his power as Rochester's first official godfather.
Frank Valenti's flashy return to rule over Rochester was much in line with his own personality. Valenti was well known throughout the city for his dapper appearance, expensive suits, slicked back hair, gold watches and swanky aura. Unfortunately for the mob however, this lifestyle would only begin to draw attention to organized crime as the Democrat & Chronicle began to publish a serious of exposés detailing Valenti's criminal past. Frank Valenti would acquire the nickname "The Sphinx" because his face would always remain expressionless when he was interrogated by the police. Still though, authorities were very aware of his business. Around New Years 1965, a serious of gambling raids took down some mafia operations controlled by Valenti. Suspecting an informant, Valenti continued down his long trusted path of bloodshed, ordering the murder of Dominick Allocco, a well known gambling figure who was suspected by Valenti of ratting. Police questioned Valenti about the slaying, but were unable to prove his guilt and he was set free, signaling the extent of his power. To prevent future law enforcement raids, he turned to bribery and held a meeting with members of the Vice Control Unit of the Rochester Police Bureau. A later investigation concluded this meeting was "certainly not for any legitimate law enforcement purpose or for the carrying out of any lawful and proper police function".
As the 1960s went on, Rochester's underworld grew, however it was still within the territory of Stefano "The Undertaker" Magaddino and controlled by the Buffalo Crime Family, who collected tributes from Valenti's operations. Nonetheless, Valenti began to build an enterprise, appointing an underboss and consigliere as he became more structured and power was consolidated. There were now more made members in Rochester than ever before. Gambling became the mafia's main source of income during this period and was expanded even beyond Rochester to Las Vegas, Niagara Falls and Atlantic City. Naturally, raids on these illegal gambling joints became a common occurrence, but hardly deterred the mobsters from operating. Drug dealing increased and infiltration of labor unions also became a staple under Valenti.
In 1968, tensions within the Buffalo Crime Family came to a peak when Buffalo boss Stefano Magaddino was arrested with his brother Peter for interstate bookmaking. A subsequent raid of his son's home in Niagara Falls uncovered a suitcase filled with several hundred thousand dollars in cash. The now aging Magaddino was now faced with animosity among his underlings. Shortly following his arrest, several Buffalo capos met at Frank Valenti's farmhouse outside of Rochester to discuss the future of the family. Among those in attendence were Sam Pieri and Joseph Todaro Sr. With the backing of the Pittsburgh Crime Family's Antonio Ripepi and with the blessing of Buffalo's capos now hostile towrds Magaddino, Valenti declared Rochester an indepenedent family that would no longer answer to Buffalo. As a newly autonomous family, La Cosa Nostra in Rochester was now headed by a strong hierarchy with Frank Valenti as the boss, Samuel "Red" Russotti as his underboss, Rene Piccarreto as official advisor or "consigliere" and various capos Salvatore "Sammy G" Gingello, Dominic Celestino, Thomas DiDio, Angelo Vaccaro and Dominic Chirico who oversaw day to day operations on the streets. This became the height of the Valenti regime as he now had total control over the city.
Columbus Day Bombings
Throughout the late 1960s, multiple high profile murders began to draw attention of law enforcement towards the mafia. Assassinations became a mainstay of Valenti's Rochester. In 1970, capo Salvatore Gingello collected over one hundred thousand dollars in deposits for a gambling junket to Las Vegas, but the money vanished. Both Gingello and underboss Russotti blamed William Lupo, a loanshark and former Jake Russo associate who may have been hostile towards Valenti. When authorities found Lupo's body slumped over the wheel of his car and discovered he was under federal investigation into loansharking and turned their attention toward the Rochester Crime Family.
Sensing the heat, in an elaborate plan to draw attention away from the Rochester family, Valenti ordered a special team to detonate bombs at various locations throughout the city. On October 12, 1970, bombs exploded and caused major damage to two black churches, the Monroe County Office Building, the U.S. Federal Courthouse and the home of a union official. These became known as the Columbus Day Bombings. Police suspected anti-Vietnam War protestors or other radical groups and shifted resources away from La Cosa Nostra. Amazed that his plan had succeeded, Valenti ordered further bombings to three synagogues and the home of a federal judge. Noticing there was no pattern or direct target, investigators were now entirely focused on solving the bombings. Valenti likewise succeeded in intimidating his enemies who now understood he was relentless.
Downfall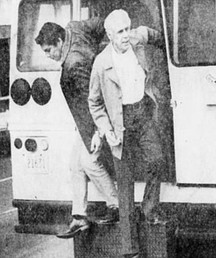 Valenti exiting a US Marshal's bus from Florence Federal Prison to appear in court on gun charges in 1973.
Unfortunately for Frank Valenti, gangsters in Rochester began to resent the viciousness of their godfather. In 1972, he was approached by both underboss Russotti and consigliere Piccarreto asking him to step down, accusing him of skimming profits and keeping for himself to purchase properties and invest in business in Phoenix, Arizona. His underlings demanded he return the money or abdicate power, however Valenti refused. Later, Valenti felt disgraced but did return the money. He however also wanted to punish his men for this and decided to organize a hit against his capo "Sammy G" Gingello, as well as Russotti and Piccarreto. However, to murder made members of the mafia, Valenti had to get permission of the other families, including the Pittsburgh and Bonanno crime family, under house sanction his organization operated. His request was denied and when Valenti's targets heard of the plot against them and were out for revenge. The three men sought Bonanno family officials to have their support in the removal and murder of Valenti, but they're request was also turned down due to Valenti's connections to the LaRocca crime family of Pittsburgh. Although they weren't allowed to kill Valenti, they still wanted to have revenge and murdered Dominic Chirico, a loyal Valenti capo. He was killed by a shotgun blast on June 5, 1972. Tensions inside the Valenti family were now running high.
On December 15 of the same year Valenti was convicted of extortion in a case involving a building contractor in Batavia, NY and Valenti was finally removed from power, replaced by his own underboss, Samuel "Red" Russotti.
Following his release from federal prison in 1977, Frank "The Sphinx" Valenti was allowed to retire to Arizona. He briefly became reinvolved in the affairs of the Rochester Mafia in the late 1970s during a power struggle that resulted in a street war, dubbed the "Alphabet Wars" by local media. Amidst the turbulence, insurgant Thomas DiDio gained control of Rochester when boss Russotti was imprisoned. Upon his release however, DiDio refused to give up power and went on to command a rebellion. The two factions came to be known as the A-Team, led by Valenti's old enemies Russotti and Gingello, and the B-Team led by DiDio, which Valenti and his brother offered support of. The following several years would result in bloodshed, bombings, shootings and kidnappings between the two factions, that ultimately destabilized the family and enabled police to break apart in a series of RICO trials during the late 1980s.
Death
Frank Valenti would go on to retire peacefully in rural Arizona, escaping any final repercussions from his life of organized crime. He died on September 20, 2008 at the age of 97 in a retirement home in Sugar Land, Texas.
Comments:
Note: You must be logged in to add comments