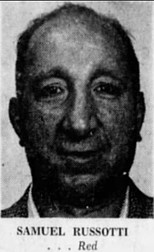 Russotti circa 1970. Samuel "Red" Russotti (c. 1912 - June 25, 1993) was a local mobster and the alleged boss of the Rochester Crime Family from 1972 until his death in 1993. Russotti spent much of his life affiliated with organized crime, with arrests as early as 1949 for gambling and frequent run ins with the law throughout the remainder of his life. Nicknamed "Red" for the color of his hair as a young man, Russotti first rose to prominence when Frank Valenti founded the Rochester Crime Family and named Russotti as his Underboss, a title he held until Valenti was deposed as boss in 1972.
Known for his sense of humor, Russotti once listed his employment as "huckster" in the Rochester Suburban Director and testified that he supported himself by gambling and occasionally borrowing from his mother. Despite his long history with the mob, his first conviction was not until 1977, when he was imprisoned for the murder of mobster Vincent "Jimmy The Hammer" Massaro. The conviction was later overturned when police admitted they fabricated evidence.
When Russotti, Rene Piccaretto and the other defendants were released from prison, they found a group of rivals had taken over the leadership. Thomas DiDio, the man they had picked to run the mob in their absence, refused to relinquish power. This triggered a long street war dubbed the "Alphabet Wars" in which the "A-Team" headed by Russotti, engaged in multiple shootings, bombings and murders with the "B-Team," headed by DiDio, who was eventually murdered on July 6, 1978. Another anti-Russotti rogue crew emerged known as the "C-Team" consisted of mostly of non-made associates.
In 1984, Russotti and six others were convicted of murdering two of their rivals, as well as attempted murder and extorting millions from illegal gambling in the 1970s and 1980s. Angelo Amico was named Acting boss in Russotti absence with Loren Piccaretto, son of the imprisoned Consigliere being put in a leadership position also.
Russotti would have been eligible for parole in October 1994 but in 1993, at age 81, he died of a heart attack in a federal prison in Michigan, and has remained the last don of the Rochester crime family.