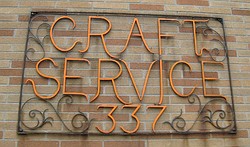 Craft Service Sign, 6-2008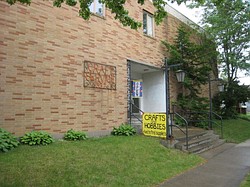 Very Nondescript Facade, 6-2008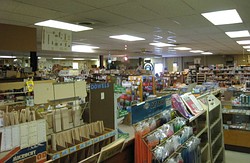 Craft Service Interior, 6-2008
Location
337 University Avenue, Rochester NY 14607
Hours
Monday - Friday: 10:00AM to 5:00PM
Saturday: 10:00AM to 3:00PM
Phone
585 325 5547
Wheelchair Accessible
No
Reviews
Google
Yelp
Craft Service is an art and craft store in the Neighborhood of the Arts that stocks many fine and mysterious supplies, especially beading, tile and mosaic material, basket-weaving material, and adhesives. They also carry models, stickers, and tools.
Comments:
Note: You must be logged in to add comments
---
2007-06-26 21:08:58 The hours given on the outgoing message are: M-F 10-5
Sat 10-3
Perhaps they read this and updated?!
Some hate it, some love it(I'm one of 'em), but all are mystified... —AlyssaFoos

---
2008-03-09 08:46:35 I've been going here since I was a kid, so has my father, and my grandfather. Craft Service is awesome, they have a great selection of leather working hardware, supplies and tools. Whenever I want to make somebody a unique gift, I go to Craft Service to get all the things I need. The shop is a true time capsule, from kits that were discontinued in the seventies to the turn of the century mechanical calculator that prints the receipts.
Just make sure you bring cash, they don't accept cards. —JustinSchmidt

---
2008-06-14 14:12:23 Been driving past this place for more then 20 years. Stopped in today (they did a writeup in the D+C). A blast from the past, stocked with all those little artsy-craftsy things you can't find anywhere else. They have been around since 1933. —DottieHoffmann
---
2012-05-23 10:19:17 Didn't support my community event with a small donation. :( —DanTylee
---
2012-08-20 08:55:25 Going in this store makes me nostalgic; not only because of its appearance, but also because it is operated and owned by a knowledgeable, friendly, REAL person. This is not a "big box" store. Your questions and interests are taken seriously, free help is offered, and all your purchases are guaranteed. I needed help caning a chair. I got an on-the-spot lesson, and materials very reasonably priced.
---
2015-04-01 12:18:12 Gee, I wonder what Dan Tylee had for a community event he only opened his account to whine. I remember going to craft services back in the 60's with members of the Seneca nation to get materials for meets. —CarltheCamera